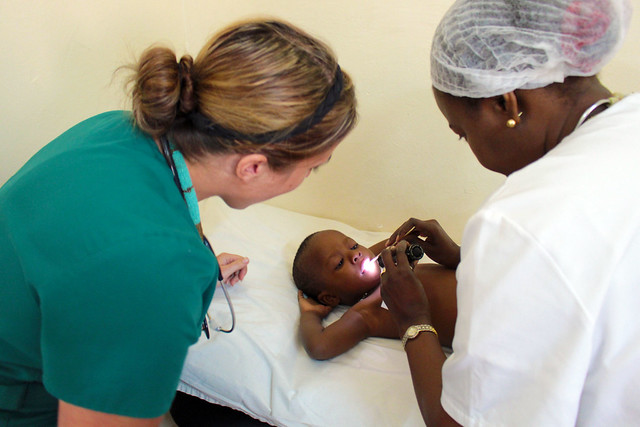 The health care system in Senegal is focusing its reforms on expanding the range of health services offered. For example, increasing access to traditionally underserved populations and introducing social protection measures.
Health Care Sections and Structure
Both private and public health sectors exist in Senegal. Employees receive coverage from the IPM (Institut de Prévoyance Maladie) Health Fund, a public health care system in Senegal. In fact, employers have the responsibility of providing health care to employees.
However, employees must contribute to the workplace for at least two months before receiving coverage. Some services of these health care systems in Senegal include partial coverage of pharmaceutical and hospital costs, primary care, vaccinations and emergency treatment.
The public health care system in Senegal includes a Social Security department, but the responsibility of health care and employment are not inclusive. Therefore, if an individual is not employed but wants to receive public healthcare services, they have the option to use Welfare services, which covers primary care. On the other hand, private health services are also available for those unemployed, not receiving health care services.
Addressing Access to Health Care Services
While the health care system in Senegal is improving, there is still a lack of effort to address health disparities within the population. As a result, only 32 percent of rural households have access to regular health care.
Many organizations are working to provide aid ensuring wider access to health care in Senegal. For example, Health Systems Strengthening, a program stemming from USAID, is working to establish a performance-based financing project in six regions in Senegal. Additionally, it is working to provide services to three-quarters of the population.
The Role of International Aid
The Centers for Disease Control and Prevention (CDC) is also providing health care services in Senegal. Their initial focus is on providing medical services for HIV/AIDS through the HIV sentinel surveillance program. Widening their goals for the health  care system in Senegal is due to the U.S. President's Malaria Initiative of 2006 and the U.S. President's Emergency Plan for AIDS Relief of 2010.
Work in Senegal
In 2015, the Global Health Security Agenda, in partnership with the CDC was able to establish an office in Senegal. Through this, there has been additional development of networks and partnerships. For example, the CDC is now working with the World Health Organization and the Ministry of Health and Social Action.
Furthermore, IntraHealth is an organization working in Senegal for over a decade. Their goal is to help increase services for family planning and education about Malaria. So far, training has been provided for more than 1,000 workers. These workers specialize in family planning services. On a broader scale, 15,000 home visits throughout Senegal have. been conducted; Ultimately, to raise awareness about Malaria.
Overall, groups, such as USAID and the CDC are working with the government to address the health care system in Senegal. In partnership, there are increasing quantities of awareness and involvement.
– Claire Bryan
Photo: Flickr
https://borgenproject.org/wp-content/uploads/The_Borgen_Project_Logo_small.jpg
0
0
Kim Thelwell
https://borgenproject.org/wp-content/uploads/The_Borgen_Project_Logo_small.jpg
Kim Thelwell
2019-06-28 06:48:29
2019-06-28 06:48:29
A Look at the Health Care System in Senegal