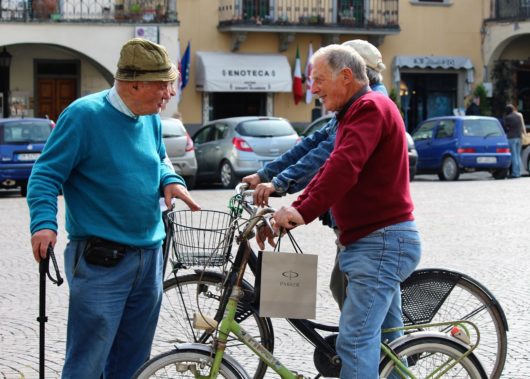 Life expectancy among Italians is close to being the best in Europe and the country arguably has one of the best life expectancy ratings in the world. This is somewhat surprising, having in mind recent economic troubles in Italy that have seen cuts in government funding of health care as well as less disposable income that individuals can use for their health care needs. Hopefully, 10 facts about life expectancy in Italy described below will shed much-needed light on the life of the people in this Mediterranean nation.
10 Facts About Life Expectancy in Italy
In 2013, the BBC reported that the average life expectancy for Italians was 81.5 years. This rate was among the highest in Europe. More specially, this life expectancy estimate placed Italy in second place in terms of average life expectancy.
This report placed Italy's life expectancy rate above those of France, Germany and Sweden, all of which are considered very "healthy nations" when comparing life expectancy rates.
However, life expectancy has decreased in Italy recently. Women's life expectancy has decreased by 0.4 in recent years and men's decreased by 0.2 in 2017.
Researchers are unclear as to what has brought on the recent decline in life expectancy in the country. Some of the leading hypotheses include lifestyle choices, lack of screening for preventable diseases and lack of access to adequate health care.
In June 2018, the report was released by the Italian Department of Labor and Industry estimated that 5.1 million Italians are living in absolute poverty. That is 8.4 percent of Italy's total population. The number of Italians living in relative poverty is estimated at 9.4 million, or roughly 15.6 percent of the total population.
The sheer number of Italians living at or below the poverty line could contribute to the recent decrease in life expectancy rates. Unsurprisingly, if individuals are struggling to make ends meet, they may not have enough disposable income for routine medical check-ups, physicals, or preventative tests and screenings.
As a general rule, poverty tends to force people to make less-healthy lifestyle choices, especially regarding food. For example, if people are struggling to pay for groceries or are trying to make their money go as far as possible, they tend to focus on buying the cheaper, unhealthier processed foods. This food is more likely to cause obesity and obesity-related health problems in the country, but in general as well.
Most facts about life expectancy in Italy are positive. In the more industrious northern part of the country, life expectancy has been on the rise. This is probably due to the fact this part of Italy is more economically developed, with a richer general population that can take-on potential medical costs. The average life expectancy in northern Italy is 83 years, compared to only 80 years in southern Italy.
There is little evidence to show that Italians will be deviating from their Mediterranean diet any time soon. This is particularly good news for Italy, considering that the Mediterranean diet is considered one of the healthiest diets in the world. Eating plenty of fresh fish, fruits and vegetables, nuts, and cooking with olive oil could explain the high life expectancy rate in Italy.
The number of centenarians, or people that are over the age of 100, has tripled in Italy over the last 15 years. Out of the total number of centenarians, 83 percent are women.
When it comes to discussing life expectancy in Italy, we should consult the oldest living person in the world that lives in this country. While Italy may have issues to address if it wants to see it's life expectancy rates increase, special attention must be given to the life choices of Emma Morano, oldest living person in the world at 117 years. Leaving genetics out of the equation, Emma watches her diet while remaining active, watches her stress levels and enjoys time with friends and family. With this advice, we could all be a little happier, and potentially live longer and more rewarding lives.
– Raymond Terry
Photo: Pixabay
https://borgenproject.org/wp-content/uploads/logo.jpg
0
0
Kim Thelwell
https://borgenproject.org/wp-content/uploads/logo.jpg
Kim Thelwell
2019-01-20 13:30:15
2019-11-05 12:56:34
10 Facts About Life Expectancy in Italy