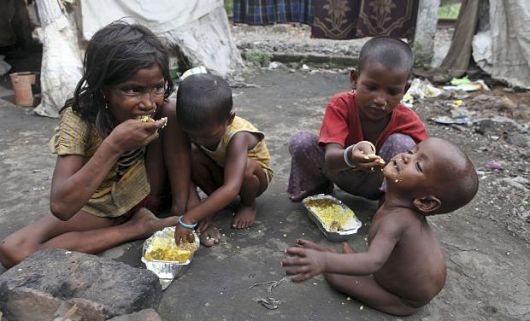 According to India's most recent Socioeconomic and Caste Census (SECC), the extent of poverty in India could be worse than ever before.
A total of 300 million Indian households were surveyed in this census, and 73 percent of those households are in small, rural villages. Of these villages, those who have a job that provides a stable salary make up 10 percent. Those who can afford to pay taxes or own a car make up only 5 percent and 2.5 percent, respectively.
This data solidifies the fact that roughly one-third of the world's poor currently live in India.
"It is our firm belief that the member countries will not only overcome the endemic poverty in the region but will in the coming years develop the capacity to address all problems relating to poverty," said SECC Minister of State of Rural Development Sudarshan Bhagat.
In the meantime, those problems are still piling up. According to the SECC, literacy rates in rural India are disheartening, with 35.7 percent of residents illiterate and only 3.5 percent of students graduating from school.
The SECC data, however, is not without its flaws. The data is not quite as concrete as what might be found in a more formal federal survey, but it does provide the most cohesive look at poverty in the country published in recent years.
"We should beware of any illusion that SECC data can be used for the purpose of drawing a line between poor and non-poor households," said development economist Jean Drèze. "There are fundamental, conceptual and practical difficulties with doing that on the basis of proxy indicators, even with good-quality data."
According to a different study, a report made by India's Planning Commission, 363 million Indians, or 29.5 percent of the total population, were living in poverty between 2011 and 2012. Even though this data is a few years old, it does not paint a much brighter picture of the current state of poverty in India. For now, the SECC report is the best bet.
"Quite likely, the SECC dataset is more reliable than earlier Below Poverty Line (BPL) surveys and could be well used, for pro-active identification of people who need social security pensions, housing subsidies and so on," added Drèze.
– Alexander Jones
Sources: Economic Times, CNN, Huffington Post
Photo: Deccan Chronicle
https://borgenproject.org/wp-content/uploads/logo.jpg
0
0
Borgen Project
https://borgenproject.org/wp-content/uploads/logo.jpg
Borgen Project
2015-08-06 01:30:53
2020-07-03 08:40:12
New Census Reveals Depth of Poverty in India