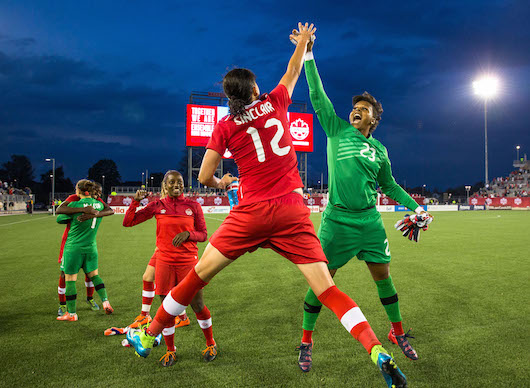 In association with the FIFA Women's World Cup Canada 2015, Canadian and U.S. celebrities are participating in the #HighFiveIt campaign for UNICEF with the universal high-five gesture.
According to UNICEF, almost one thousand children die every day worldwide because of the lack of clean water. Conditions are worsened for those without proper nutrition, immunizations, safety and infant health.
The #HighFiveIt campaign raises money to develop strategies to solve these issues as well as implement the plans created. UNICEF will also help to educate the areas that suffer from these problems with techniques that continue to improve upon the tactics that UNICEF will put in place.
In Canada, Karina LeBlanc, the Canadian Women's National Team goalkeeper and UNICEF ambassador, helped start the campaign by high-fiving Christine Sinclair, the captain of Canada's team.
UNICEF asks that supporters take part in #HighFiveIt by posting a photo or video of a high-five during a sporting match, tagging five friends in the post and donating to UNICEF.
Among the supporters are many celebrities who have pledged to help save lives of children in poor areas. Disney Channel stars Calum Worthy, Raini Rodriguez and Laura Marano are giving their high-fives for UNICEF, and so are Rico Rodriguez from "Modern Family" and Peter Mooney, Missy Peregrym, Priscilla Faia and Erin Karpluck from "Rookie Blue."
In addition, several other Canadian and American politicians, athletes and celebrities are pledging to #HighFiveIt to save citizens in poor areas.
UNICEF Canada's Chief Development Officer, Sharon Avery, said that she is very pleased with the support from these celebrities as their backing will draw a lot of attention to the cause.
"It's wonderful to see our homegrown talent, along with several American celebrities, taking part in this campaign to save lives," Avery said. "I've seen the impact of UNICEF's work with children in Honduras and Dominica and am excited to have my passions — soccer and reaching children through UNICEF — come together with #HighFiveIt."
Though their involvement was very important, celebrities were not the only people taking part in #HighFiveIt. 7,238 UNICEF fans took part in the Guinness World Record for the greatest number of people simultaneously giving a high-five. This event broke the previous record by 2,542 people.
With such a large number of supporters giving high-fives, UNICEF hopes to reach their goals. The organization's website offers five different life-saving options to donate to, the first being "greatest gift." If the donator chooses to give to "greatest gift," the money will be presented to areas that need change the most.
"Children living in conflict and vulnerable situations will benefit from your generosity," UNICEF said.
By selecting "infant health," the donator will fund the implementation of baby-friendly hospitals, training of health-care workers and breastfeeding education for mothers. If the supporter chooses "vaccines," the donation will be used to provide vital vaccinations for tetanus, polio, measles and other life-threatening diseases. By clicking on "nutrition," the funding will go to efforts to end starvation and malnutrition, and with the selection of "water," the donation will be used to create water-catchment devices for a better opportunity to provide clean water to developing areas.
Because UNICEF presents the chance of choosing to give directly to causes that the supporter prefers, the organization has created a more personal donation experience. That being said, each dollar the supporter gives to their choice source will be matched by UNICEF, up to two million dollars.
Celebrities and fans of UNICEF can potentially raise more than four million dollars with this promise. To join the cause and help save the lives of people in need, go to unicef.ca or search #HighFiveIt.
– Fallon Lineberger
Sources: Look to the Stars, UNICEF 1, UNICEF 2, UNICEF 3
Photo: Newswire
https://borgenproject.org/wp-content/uploads/logo.jpg
0
0
Borgen Project
https://borgenproject.org/wp-content/uploads/logo.jpg
Borgen Project
2015-07-13 14:06:16
2020-07-09 22:34:06
Celebrities High-Five For UNICEF