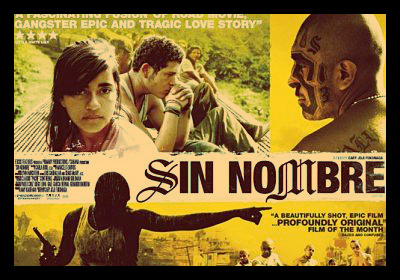 Sin Nombre may seem like old news compared to Cary Fukunaga's most recent project "True Detective." This is especially the case since the newly popular HBO crime drama, starring Matthew McConaughey and Woody Harrelson, has cemented the fledgling director's reputation as a serious filmmaker.
However, before 2014's "True Detective," and even before his critically acclaimed 2011 adaptation of Jayne Eyre, Fukunaga debuted as a director with the much less watched Sin Nombre (Spanish for "nameless"). The 2009 U.S.-Mexican production tells the story of two emigrants travelling north through Mexico to the United States. One of them, a young girl from Honduras accompanied by her family. The other, a former gang member from Chiapas, Mexico, escaping from the Mara Salvatrucha, known colloquially as the infamous MS-13.
While the film lacked the mainstream success of some similar area films (like Alejandro Gonzalez Iñárritu's "death trilogy") it fared well on the festival circuit and received overwhelmingly positive feedback from critics. The film currently holds an 88% on Rotten Tomatoes, a score of 77 on Metacritic and a 7.6 on IMDB. The film was popular both domestically and internationally, receiving awards at the Sundance and Stockholm film festivals, among others.
Sin Nombre is noted for its gritty and at times harrowing portrayal of Central American gang culture, particularly focusing on the entrapment faced by young men growing up in poverty. The film's protagonist, known as El Casper, decides to escape after his gang leader questions his loyalty. Atop a northbound train, full of other U.S.-bound emigrants, Casper is befriended by a young girl named Sayra, despite her family's reproach.
According to Roger Ebert's review, Fukunaga was inspired by a story of 80 illegal immigrants found trapped in a truck in Texas, 19 of whom had died. Unlike many films on social issues, however, Sin Nombre is an apolitical and one could even say an amoral film, depicting the dangers of emigration without the politicking of immigration reform.
Though the film lacks the gloss, subtext and moral of what you would call "socially conscious films," the movie is socially conscious in its own way, depicting desperation that transcends political ideals and the legality of immigration. Its message is not in its words, but in the adrenaline of watching its characters go through struggle.
The protagonist, after all, is hardly a hero. The film does not ask its viewers to respect or adore him. It shows the other side of the border which we rarely see, and tries to explain that for some, the risks of emigration are small compared to the consequences of home.
What is also important to note is how films like Sin Nombre have reached wide-ranging audiences through outlets such as Netflix—especially its "Watch Instantly" feature. Viewers looking to watch a film immediately (as opposed to planning to see it in theaters) are more likely to go beyond their genre comfort zone. The fact that films like Sin Nombre, Maria Full of Grace and Whore's Glory have become well-known in the U.S.—all of which are foreign or transnational productions—shows how filmmakers can use neutral outlets such as Netflix to reach new audiences, sparking discussion and interest.
– Dmitriy Synkov
Sources: Rotten Tomatoes, Meta Critic, Nth Position, Roger Rebert, IMDB, New York Times, The Borgen Project
Photo: Brad Nehring
https://borgenproject.org/wp-content/uploads/logo.jpg
0
0
Borgen Project
https://borgenproject.org/wp-content/uploads/logo.jpg
Borgen Project
2014-03-05 08:42:30
2018-01-16 13:30:43
Sin Nombre: Looking Back at Cary Fukunaga's Directorial Debut