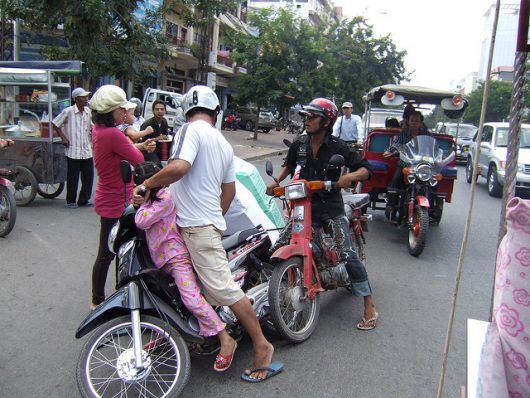 The main cause of death in Cambodia is traffic accidents. While there are expected damages to the car and its surroundings, the effects of the accidents extend much further than the intersection where it occurred. As a result of the traffic issues, Cambodia is suffering from the destruction of lives and property and from reduced development efforts. Specifically, traffic accidents disrupt Cambodia's Millennium Development Goals efforts, the first of which is to eradicate extreme poverty and hunger.
The challenges to national development arise directly, and indirectly, from the costs associated with each traffic accident. According to a 2013 study, traffic accidents cost the government about $337 million. That is equivalent to nearly three percent of Cambodia's GDP. The costs stem from the destruction of the roads and cars, medical expenses, court service fees and non-productivity. The Minister of Health, Dr. Nuth Sokkom, reported that upwards of 50 percent of hospital patients are there because of traffic accidents. Costs accumulate when injuries are severe, as some riders need a year's worth of treatment or are permanently disabled. When these cases arise, the financial burden shifts to the government to provide for those who cannot provide for themselves.
Specifically for low-income families, the effect of a traffic accident is even more costly. A family can spend years trying to pay off the debt incurred. Even for the survivors, victims and their families are often forced to sell land and livestock in order to make ends meet. Further, since a majority of victims are young men who are the head of their household, the children of the victims' families are impacted on an educational level. To help with work at home, many children drop out of school. Research shows that the dropout rate has increased to 30 percent among victims' families.
Ear Chariya, director of Cambodia's Institute for Road Safety, has made statements regarding the number of accidents and attributes the problem to a couple of different sources. First, traffic signs and lights are already in place, so driver caution needs to increase. Second, the government simply is not doing much to enforce traffic laws and hold abusers accountable.
The good news is that in 2016, Cambodia experienced a significant drop in the number of traffic accidents. Not only did the number of accidents decrease by about 12 percent, but the number of deaths and injuries decreased as well. With more active law enforcement to implement the rules of the road, Cambodia saw a positive turn away from traffic-related incidents. With new traffic laws in place, the government is focused on spreading awareness about the laws with the intent to continue increasing driver accountability. Given the success in the first year's implementation, how long traffic accidents disrupt Cambodia's Millennium Development Goals is surely limited. As the costs of the accidents are removed, both the government and the people of Cambodia can reallocate the resources toward ending the pervasive hunger and poverty throughout the nation.
– Taylor Elkins
Photo: Flickr
https://borgenproject.org/wp-content/uploads/logo.jpg
0
0
Kim Thelwell
https://borgenproject.org/wp-content/uploads/logo.jpg
Kim Thelwell
2017-10-23 01:30:07
2020-04-04 08:18:53
Traffic Accidents Disrupt Cambodia's Millennium Development Goals