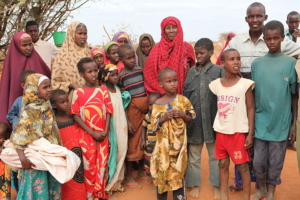 There are a plethora of organizations with eradicating global poverty at its center. Many focus on specific continents as there are many poverty-stricken countries across these areas. Africa is one of many continents in need of help. One in three Africans, 422 million people, live below the global poverty line and represent more than 70% of the world's poorest people. On the bright side, one organization making a tangible difference in these numbers is Village Enterprise. Village Enterprise fights poverty in Africa in multiple ways.
Village Enterprise started in 1987 and is working towards ending poverty in East Africa through various methodologies. It has transformed over 1 million lives throughout its establishment. Its focus is eradication through entrepreneurship and innovation with a focus on women, rural youth and refugees. These three categories tend to be the most vulnerable groups with the least resources for success.
Facts About Village Enterprise
The Village Enterprise Graduation program is the primary way they aid Africa. It started over 48,000 businesses and trained over 185,000 East Africans through its program. It targets individuals who have no prior business experience, live on less than US$1.90 a day and are unable to provide for their basic needs.
Village Enterprise fights poverty in Africa by providing groups of three entrepreneurs with cash as seed capital, training and mentoring. These groups filter into Business Savings Groups (BSGSs) of 10. This allows them further access to growth capital, safe savings and social capital. These businesses have included farming, restaurants, beekeeping and small retail stores. Additionally, studies have shown that this program has led to increased consumption, assets and income, and improved nutrition and well-being.
Women Empowerment in Africa
One of its main focuses is empowering women. In fact, 75% of its business owners are women, which is essential because seven out of 10 of the world's hungry are women. Additionally, in East Africa, women are more likely to be illiterate, underpaid and provided with food than men.
However, with the help of Village Enterprise, financially-empowered women can prioritize these areas to benefit their families. They can do this to benefit their communities as well. The Village Enterprise program analyses show that households with female participants reported increased standing in the city and subjective well-being. This includes improved mental health and happiness, which all work towards ending global poverty.
Empowerment for the Youth of Africa
Regarding empowering the rural youth, over 75% of East Africa's population is younger than 35. Therefore, investing in youth unlocks economic opportunities in the future. Most rural youths are unemployed because of a few economic opportunities.
By stepping up in places like Kitgum, Uganda, the rural youth can start providing for themselves and their family. Village Enterprise adapted its Graduation program for youth. This created the Mastercard Foundation-funded DYNAMIC (Driving Youth-led New Agribusiness and Microenterprise). It allows children to have agricultural opportunities for economic activity.
Providing Help for Refugees
Finally, Village Enterprise fights poverty by focusing on empowering refugees through another adaptation of its Graduation program. The refugee population in Uganda is at nearly 1.5 million people, so helping the community economically is vital in Africa.
It worked with other organizations to conduct assessments for its programming in the West Nile refugee settlements of Bidi Bidi, Rhino Camp and Palorinya. Following these assessments, it paired refugees with community members to small businesses. Doing this promotes resilience and reduces aid alliance, improving outcomes for the refugees.
Overall, the work of Village Enterprise is inspiring. It demonstrates how vital aid is for other countries, and how a little help goes a long way. By enabling opportunities for economic growth, Village Enterprise has begun a long-standing economic boost for many people in East Africa. With expansion across the continent, it can continue towards its mission of ending global poverty.
– Kiana Powers
Photo: Wikimedia Commons
https://borgenproject.org/wp-content/uploads/logo.jpg
0
0
Kim Thelwell
https://borgenproject.org/wp-content/uploads/logo.jpg
Kim Thelwell
2020-10-23 10:00:49
2020-10-22 11:41:58
Village Enterprise Fights Poverty in Africa