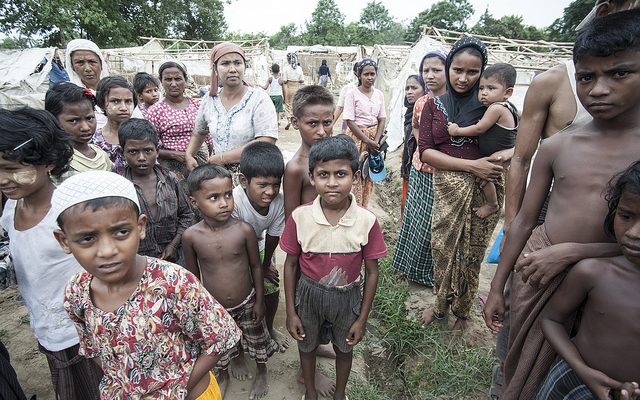 In the past decade, Buffalo has become home for refugees from all around the globe, but more than 8.000 of these refugees come from Burma. These refugees started arriving over a decade ago when resettlement agencies invited them to become Buffalonians after the George W. Bush administration made a near-secret diplomatic deal with Burma. Throughout Buffalo, there are numerous organizations helping Burmese refugees as they come in.
Organizations Helping Burmese Refugees in Buffalo, New York
Journey's End Refugee Services –  This organization's mission is to assist refugees in becoming "healthy, independent, contributing members of the community." This year alone Journey's End has resettled 418 refugees in Buffalo. Refugees have to go through numerous interviews and screenings before they are put into the hands of Journey's End, but once they are, they are given anything they could possibly need. Refugees arriving have a variety of needs, some need a translator, someone to take them out to get food and clothes, someone to find them a job and a home, but some refugees only need to be pointed in the right direction with little help along the way. The staff at Journey's End is trained to deal with either extreme, as well as everything in between. This organization has turned thousands of people from terrified Burmese refugees into Buffalonians. Journey's End has made it possible for native Burmese people to make a community and a home in Buffalo. It is where home begins again.
International Institute of Buffalo – This organization believes that refugees and immigrants are critical to the economic strength, population growth, workforce and business growth, home ownership and the expanding cultural richness of Western New York. Their services include welcoming refugees into Buffalo, employment and housing support. The International Institute also works very hard to foster connections between those working with refugees and ethnic community leaders and native-born residents in order to get refugees more involved and more comfortable in the community. This social services organization also monitors the ethnic community organizations, including the Burmese Community Support Center. There has also been work with city block clubs to connect with foreign-born neighbors, as well as the establishment of the Buffalo Region Immigrant and Refugee Roundtable. This organization has made it possible for refugees to get connections around Buffalo, as well as giving them the chance to talk about what they are going through, so they feel less alone and more at home. The International Institute of Buffalo has gone above and beyond in order to make Burmese refugees, as well as refugees from all around the world, feel at home in Buffalo.
Burmese Community Services – This is another organization helping Burmese refugees get settled into Buffalo, providing any assistance they might need along the way. It is tailored specifically towards Burmese refugees. Their services include aiding the poor and distressed, eliminating prejudice and discrimination, promoting the social welfare and defending human and civil rights secured by law. They also collaborate with stakeholders in Buffalo to address the needs of the growing population of Burmese people in the area. This non-profit organization also aids with school registration, food stamps, Medicaid, home energy assistance and re-certification of The Department of Social Services. This allows refugees to get help whenever they need it, no questions asked. Burmese Community Services provides a place where help can always be given to those Burmese refugees in need of it as well as a place for people of the same nationality to come together as a community.
All three of these organizations helping Burmese refugees have made a huge difference in their lives. These refugees have somewhere to go if they need help with almost anything. They have gone from terrified refugees to an integral part of the Buffalo community. Because of these organizations, there is a community for Burmese people to help them integrate into Buffalo, a place that they can call home. But, even though some Burmese people have been able to flee, a lot of people remain in terror and devastation in Burma. They can be helped by refugee organizations once they are in the U.S, but foreign aid is the only way to help Burmese people who are still living in fear of being killed every day.
– Megan Maxwell
Photo: Flickr
https://borgenproject.org/wp-content/uploads/logo.jpg
0
0
Borgen Project
https://borgenproject.org/wp-content/uploads/logo.jpg
Borgen Project
2018-08-13 01:30:11
2021-12-10 12:06:22
Three Organizations Helping Burmese Refugees in Buffalo, New York