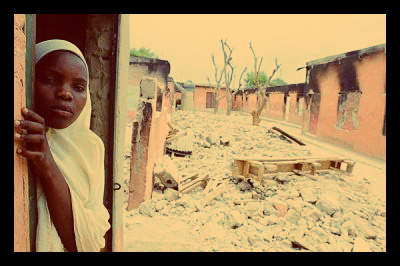 Schools in northern Nigeria are again the targets of religious tension, after a fatal attack by Boko Haram on February 24.  The militant group set fire to the dormitories of a boarding school in the town of Budi Yani, Adamawa killing 29 young boys ages 11-18.
This is one of a growing number of attacks by the organization, which is responsible for roughly 1,700 deaths since their establishment in 2009. It is eerily similar to the burning of the College of Agriculture in Yobe State last September, during which 42 students were killed and 18 injured. Again on February 12, an estimated 50-90 civilians lost their lives in the village of Izghe in Borno state.
Tension is prevalent across the northern states of Borno, Yobe, Kano, Adamawa, Kaduna and Bauchi, where Boko Haram seeks to create a separate Islamic state, under the rule of Sharia law. Their sectarian stance is adamantly opposed to Western influence and Christianity, as indicated by their name, which translates to "Western education is sinful".
Religious conflict between the predominantly Muslim north and the mainly Christian south arose in 1914, when British colonial rule created the West African nation. Demographics were not considered when the borders were drawn, combining culturally distinct and incongruous populations.
Boko Haram's presence has been disastrous for Nigeria's education system. Schools across the north are closing indefinitely, and even those that remain open are seeing extremely low attendance. Previously, State Commissioner of Education Mohammed Lamin frequently claimed that the government was winning the war on terror, and urged schools to reopen. However, many frightened parents remain unconvinced.
Aside from schools, Boko Haram also targets local banks, businesses, homes, churches and public buildings. Many families have fled to nearby Chad and Cameroon, choosing refugee status over sectarian violence.
Local chairman of Izghe, Maina Ularamu, says, "there is no protection. We cannot predict where and when they are going to attack. People can't sleep with their eyes closed."
The boarding school assault has been interpreted as an "open declaration of war," according to Nigeria's Senate President David Mark, along with other government leaders. The state of emergency declared in the region last year, as an attempt to end the insurgency through formal military deployment, will continue.
International efforts continue to be implemented against Boko Haram. France and the United States recently pledged their support for the Nigerian government, and leaders of neighboring Senegal, Niger, and Cameroon promise to help fight the militants on the ground. Nigeria's President Jonathon will also soon be attending a security conference in Europe, where he hopes to garner even more awareness of the issue.
 – Stefanie Doucette
Sources: Al Jazeera, Al Jazeera, NPR, NPR, BBC, The Guardian
Photo: LA Times
https://borgenproject.org/wp-content/uploads/logo.jpg
0
0
Borgen Project
https://borgenproject.org/wp-content/uploads/logo.jpg
Borgen Project
2014-03-05 11:02:36
2017-02-15 10:28:19
Boko Haram Targets Schools in Northern Nigeria