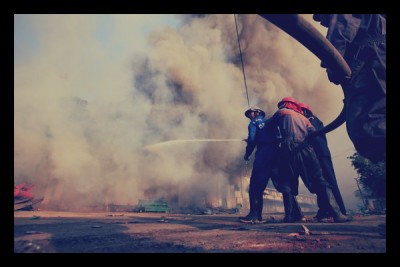 Violence in central Myanmar has broken out in recent days between Buddhists and Muslims. Estimates of the death toll from a recent rampage through a Muslim area are anywhere from 20 to 40; some of the victims include children. Buddhist attackers have burned mosques and entire Muslim neighborhoods to the ground in bitter offensives against one of the few minority groups in an overwhelmingly Buddhist nation.
Regions of Myanmar have experienced protracted violence, with a majority of the victims being Muslim. Over 150 people have died in the past year as attacks spread inland from coastal areas. Often, police and military units fail or outright refuse to intervene. The national government has ceded some of its authoritarian power in recent years, which had previously helped to quash inter-ethnic violence swiftly. While human rights advocates have been cautiously optimistic about these reforms, the lack of protection for victims of vicious attacks demonstrates how far Myanmar has yet to go.
President Obama has made Myanmar a focus of his travels in Southeast Asia; in November 2012 he was the first American president to ever visit the country. He met with the opposition leader, longtime political dissident Aung San Suu Kyi, who cautioned him against being too optimistic when victory appears close. Mr. Obama's efforts to foster democracy in Myanmar are reflective of his overarching strategy of diplomacy and engagement with those leaders who he seeks to persuade on human rights issues. Now, as inter-ethnic clashes are on the rise, it is time for Myanmar to demonstrate its commitment to a society that protects the livelihoods of all its citizens.
– Jake Simon
Sources: New York Times, Reuters
https://borgenproject.org/wp-content/uploads/logo.jpg
0
0
Borgen Project
https://borgenproject.org/wp-content/uploads/logo.jpg
Borgen Project
2013-03-27 10:00:18
2020-05-26 00:45:45
Violence in Myanmar Continues to Spread