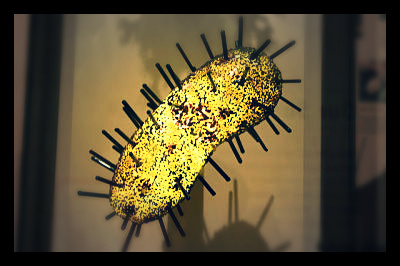 In the 14th century, the bubonic plague that had quietly lived in China's Gobi Desert lifted from the ground and attacked Europe. Carried by fleas who found refuge on rat fur, the bacteria wreaked havoc on the filthy cities of the Middle Ages. By the end of the 16th century, more than a third of Europe was claimed by the plague now known as the Black Death.
In the centuries that followed, hygiene and sanitation improved, and the plague has mostly become a disease of history. But it has yet to be fully eradicated.
On July 16, a 38-year-old Chinese herdsman died from the bubonic plague. He had been exposed to a dead marmot, a rodent-like creature related to the squirrel, that was carrying the dangerous bacteria. The man was admitted to the hospital with a high fever and was coughing blood. Immediately, the hospital quarantined him and Chinese health officials flooded into the city of Yumen.
Of the city's approximate 100,000 residents, 151 have been placed into quarantine, as they were believed to have been near the infected man after his exposure to bacteria. Furthermore, parts of the city — which allocated 1 million yuan in the way of emergency vaccinations — have been sealed off.
Chinese Central Television (CCTV) reports that Yumen has enough food supplies to last them a month if need be. The same report also indicates that all residents in quarantine look to be uninfected.
The plague, when it infects a person's lungs, can be fatal if left untreated for even 24 hours, a misfortune that struck the Yumen community with the herdsman's death.
According to the World Health Organization, between 1,000 and 3,000 people die from the bubonic plague every year. But most victims of this ruthless disease hail from developing countries that still struggle with sanitation.
Between 2000 and 2009, close to 20,000 people were infected by the plague. Of these cases, 10,581 cases were reported in Congo, 7,182 in Madagascar and 1,309 in Zambia.
Meanwhile, only 56 people from the U.S. have been affected by the disease, of whom seven died.
But plague cases remain especially rare in China. There was only a single diagnosed case in the province of Sichuan in 2012 and 12 cases — including three deaths — in 2009 in the remote and rural areas of China's western provinces.
– Shehrose Mian
Sources: LiveScience 1, LiveScience 2, Al Jazeera, The Guardian, Enca, Austrian Times, Washington Post
Photo: Flickr
https://borgenproject.org/wp-content/uploads/logo.jpg
0
0
Borgen Project
https://borgenproject.org/wp-content/uploads/logo.jpg
Borgen Project
2014-07-30 04:00:27
2020-07-28 07:22:07
Plague Forces Chinese City into Quarantine