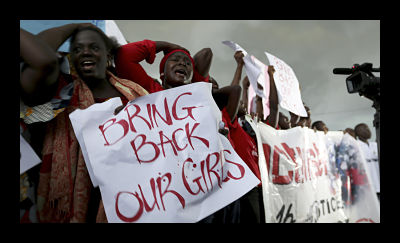 The "Bring Back Our Girls" campaign drew international attention after terrorist group Boko Haram abducted 276 Nigerian girls in April. After six months, the effort is no longer a trending hashtag on Twitter, the international outrage has cooled, and not one girl had been rescued. At least that was the case until October 17, when Nigeria's military reportedly reached a deal with Boko Haram, signaling a possible release.
Of the abducted, 57 escaped as they were being taken or shortly after. The whereabouts of the rest remain unknown. Nigerians continued to echo what was once a global cry, with daily protests in the Nigerian capital, calling for their return home.
In the Wake of Tragedy
The tragedy may spark positive changes for schoolgirls in Nigeria. After the abduction, thousands of Nigerian schoolgirls stopped attending class out of fear. In response, Nigerian President Goodluck Jonathan, along with Finance Minister Ngozi Okonjo-Iweala, spearheaded reform in their Safe Schools Initiative.
The plan seeks to provide better protection for students and implement better communication between Nigerian schools. The initiative has already raised $25 million from donor support. Activists hope that this will lead to broader school reform in Nigeria, especially for female students.
In the meantime, Newsweek's African correspondent Alex Perry remains skeptical that all girls will be safely returned. "All intelligence suggests that the girls are no longer in one group–some were married off and some dispersed around the country," he said. "It would be miraculous if they got them all back together again."
Terrorism in Nigeria
Boko Haram abducted the girls to be used as ransom for detained fighters. The group, whose name roughly translates to "western education is forbidden," has worked to establish an Islamic state in Nigeria over the last five years. Despite the damage inflicted upon the Nigerian community, the group reportedly only has about one thousand members across four African countries.
President Jonathan refused the exchange with the terrorist organization, and was accused by activists of remaining silent on the situation. The specifics of the most recent negotiations remain unclear.
– Ellie Sennett
Sources: Al Jazeera, Reuters, Newsweek, Huffington Post
Photo: PRI
https://borgenproject.org/wp-content/uploads/logo.jpg
0
0
Borgen Project
https://borgenproject.org/wp-content/uploads/logo.jpg
Borgen Project
2014-11-05 04:00:34
2020-08-21 20:46:39
Bring Back Our Girls: A Possible Return Home?