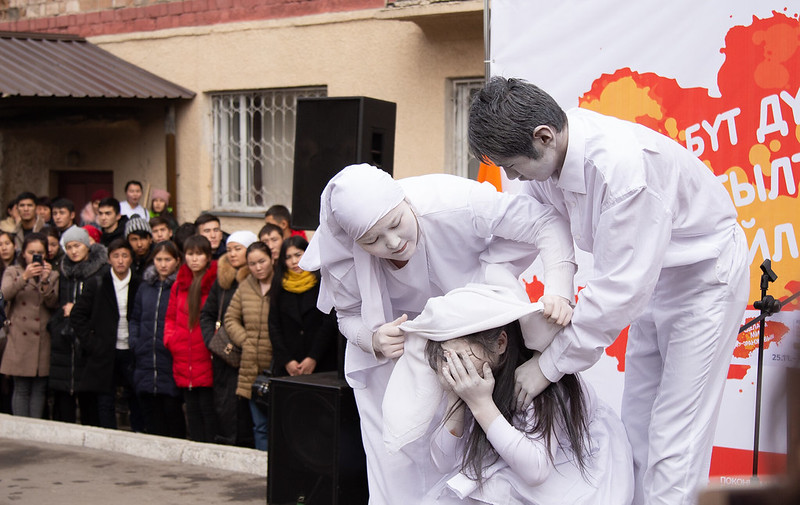 Kyrgyzstan, formally the Kyrgyz Republic, is a country in Central Asia. Kyrgyzstan has a population of approximately 6.5 million people, with more than 60% of the population living in rural areas. A practice of the Kyrgyz people, most prevalent in the country's poor rural areas, is bride kidnapping, which occurs when men abduct women and force them into marriage with or without the consent of the woman's family. Kyrgyzstan's government and USAID are working to tackle this issue. However, one of the most effective ways to combat the practice of bride kidnapping in Kyrgyzstan is addressing poverty in rural Kyrgyzstan.
The Connection Between Poverty and Bride Kidnapping
Because some of Kyrgyzstan's population regard bride kidnapping as a traditional and romantic practice, men may "kidnap" brides with consent from the bride and her family. This is known as consensual bride kidnapping. However, bride kidnappings that occur without the bride's knowledge or agreement are non-consensual bride kidnapping. The U.N. has condemned this practice of forced marriage as a violation of human rights.
Poverty and unemployment in recent years provide a source of frustration for young men in rural Kyrgyzstan seeking to marry. One characteristic of traditional Kyrgyz marriage is kalym, or the "bride price," by which a man seeking to marry must pay the bride's family in cash and livestock.
Poor men in rural Kyrgyzstan often do not have the money or resources to pay this price. Additionally, these men face pressure from their communities to marry before they reach a certain age. Thus, the quickest and cheapest way to do so is to kidnap a bride.
Other Factors in Bride Kidnapping
Aside from poverty, many other factors can also help explain why bride kidnappings occur. One reason why a man may kidnap a bride is simply that he cannot otherwise obtain her consent or because he is worried she may marry someone else.
Another factor that explains bride kidnapping is the dissolution of the Soviet Union. Once the Soviet Union collapsed and Kyrgyzstan gained its independence, the young country sought to assert its nationalist dignity and separate its identity from the Soviet Union by reviving traditional practices, such as bride kidnapping.
The U.N. estimates that one in five marriages in Kyrgyzstan is the result of bride kidnapping. Poverty is one factor that incentivizes bride kidnapping. However, bride kidnapping can also cause further poverty, particularly for the few women who manage to escape their marriages. Often uprooted in the middle of their pursuit of education or professional opportunity, these women return to a society where they lack the skills they need to support themselves and their children.
Additionally, the state does not register marriages that are a product of bride kidnapping, as Girls Not Brides reported. Therefore, these women are not entitled to any assets or support they might have otherwise received in the case of legal divorce. Along with driving women further into poverty, negative effects of bride kidnapping on women also include domestic abuse, denial of educational or economic opportunities, high rates of depression and suicide.
What is the Government Doing About It?
In 2013, Kyrgyzstan's government increased the prison sentence for bride kidnapping from a maximum of three years to a maximum of 10 years. The state also set forth a Criminal Code that prohibits bride kidnapping and forced kidnapping.
The government's efforts to criminalize bride kidnapping are worth noting and encouraging further. Still, it needs to more consistently and effectively enforce laws that address bride kidnapping. Women who manage to file a complaint against their kidnappers often find that the crime remains unprosecuted. Additionally, the government does not yet sufficiently fund services for survivors of bride kidnappings and the domestic abuse that can result from such a practice.
The Five-Year Enterprise Competitiveness Project
However, the state is not alone in its efforts. Several USAID projects focus on helping the poorest regions of Kyrgyzstan by supporting job creation and economic growth. Since poverty is one factor that can potentially motivate bride kidnapping, efforts to relieve poverty may translate into deterrence from bride kidnapping.
For example, in 2018 USAID started the five-year Enterprise Competitiveness Project. It focuses on growing sectors that can quickly create more jobs such as the agricultural, manufacturing and apparel sectors. The project provides businesses in regions with high levels of poverty and unemployment with grants and technical advice, funds research and creates partnerships with financial institutions. USAID expects the project to create 19,000 new jobs.
The USAID Business Growth Initiative
USAID also works to support and empower the women of Kyrgyzstan in a variety of ways. The USAID Business Growth Initiative supports women-owned businesses in sectors such as tourism and apparel. Thus far, the project has provided 2,000 women with new technical skills.
USAID also provides professional training for female Members of Parliament. The agency sponsors conferences between these women and political activists. It is fostering connections that strengthen support for legislation that combats bride kidnapping and prioritizes women's rights. Furthermore, USAID partners with civil society organizations to raise awareness about criminal liability for bride kidnapping. It also advocates for laws protecting women from domestic violence.
Thus, providing greater economic opportunity for men in rural Kyrgyzstan is one way to decrease the risk of bride kidnapping. Men who are more secure in their finances and assured of their employment will have less incentive to kidnap brides.
Additionally, providing greater state protections and services for victims of bride kidnapping as well as a greater guarantee for prosecution can also serve to deter this practice and rehabilitate the victims of this human rights violation. Finally, raising awareness for women's rights could help dismantle traditional, misogynistic practices such as bride kidnapping.
– Savannah Algu
Photo: Flickr
https://borgenproject.org/wp-content/uploads/logo.jpg
0
0
Jennifer Philipp
https://borgenproject.org/wp-content/uploads/logo.jpg
Jennifer Philipp
2021-12-17 01:30:00
2021-12-07 10:57:30
Poverty and Bride Kidnapping in Kyrgyzstan