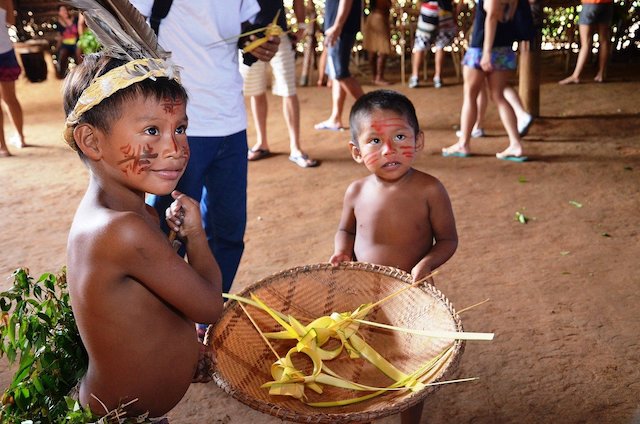 The coronavirus has resulted in deaths all over the world, but some communities are more heavily affected than others. In Brazil, the coronavirus in Indigenous communities has taken an especially hard toll. COVID-19 disproportionately affects these often-isolated groups, which struggle to access the support systems needed to withstand this threat.
The Vulnerability of Indigenous Communities
Some Indigenous tribes living in Brazil have limited or no contact with the rest of the world. However, this isolation may render some tribes unaware of the pandemic in general or of its full seriousness. The coronavirus in Indigenous communities may also put tribe members at a greater risk, because they lack exposure to many illnesses. This means that their immune systems are often not strong enough to fight COVID-19.
Additionally, isolated Indigenous communities only have limited access to unreliable testing, contact tracing and communication of quarantine protocols. Some would have to travel for days to reach modern medical facilities providing such resources.
In particular, Indigenous communities fear the village elders contracting the coronavirus. Elders are not only the most vulnerable members of the community but may also experience the most serious effects of the disease. Additionally, many refer to these elders as "living libraries" or "living encyclopedias." They hold tribal knowledge of culture, mythology and natural medicine, and many speak endangered languages. If coronavirus in Indigenous communities wipes out this generation of elders, their tribe's cultural history and knowledge will die with them.
Why Outsiders Pose a Threat
The rapid spread of the coronavirus in indigenous communities often results from outsiders who visit these communities without taking the proper precautions. For example, doctors working in remote Indigenous regions have tested positive for the coronavirus. They only entered quarantine after they possibly spread the disease to multiple villages. Additionally, other medical teams have failed to follow proper quarantine protocol before entering an Indigenous reserve to care for those vulnerable to the disease.
Miners and poachers tapping resources on Indigenous lands have also spread the virus to these isolated communities. In Brazil, an estimated 40% of Yanomami people who live near these mining operations are now at risk of contracting COVID-19. Leaders from the Yanomami Indigenous Territory have spoken out, creating the hashtag #MinersOutCovidOut. Their aim is to raise awareness and demand an end to illegal gold mines and other land invasions.
The budget cuts and staff reassignment faced by FUNAI, a government agency that defends the boundaries of Indigenous land in Brazil, have made it possible for illegal miners and poachers to enter these protected regions. Indigenous people in certain tribes have also claimed that FUNAI only gave food supplies and assistance to tribes on officially demarcated land. However, even this aid was not enough to feed the large families of the tribe.
The Government in Brazil
Brazilian president Jair Bolsonaro has come under fire in the past for dismissive statements about Indigenous communities in Brazil. He has also allowed illegal logging, mining and land grabs to continue. Currently, Bolsonaro's administration faces criticism for its response to the pandemic. The Brazilian government's conflicts with Indigenous communities have resulted in inadequate support required for these communities to fight COVID-19.
The Brazilian Supreme Court ordered in July 2020 that the government must create a crisis response team and develop a plan to control the coronavirus. However, Bolsonaro recently vetoed proposed laws to provide vulnerable Indigenous communities with designated intensive care beds, clean water and essential supplies. Bolsonaro defended this decision by citing excessive costs that he claimed would go against public interest.
Fighting the Coronavirus in Indigenous Communities
To fight this crisis, Brazilian Indigenous communities and outsider organizations are joining forces. The NGO Brazilian Health Expeditionary, or Expedicionários Da Saúde, has helped Indigenous people from over 700 isolated communities in the Amazon by setting up temporary medical facilities with necessary supplies. Local officials and Indigenous groups collaboratively gather money and distribute food supplies in place of the unfulfilled promise of government assistance.
Many individual tribes are also protecting themselves from the spread of the virus by remaining in isolation from the rest of the world. This means that they seek medical care within their own communities. As such, though the severity of the coronavirus in Indigenous communities in Brazil is dire, it is not without hope.
– Allie Beutel 
Photo: Pixabay
https://borgenproject.org/wp-content/uploads/logo.jpg
0
0
Kim Thelwell
https://borgenproject.org/wp-content/uploads/logo.jpg
Kim Thelwell
2020-10-22 18:44:16
2020-10-22 18:44:16
The Coronavirus in Indigenous Communities in Brazil