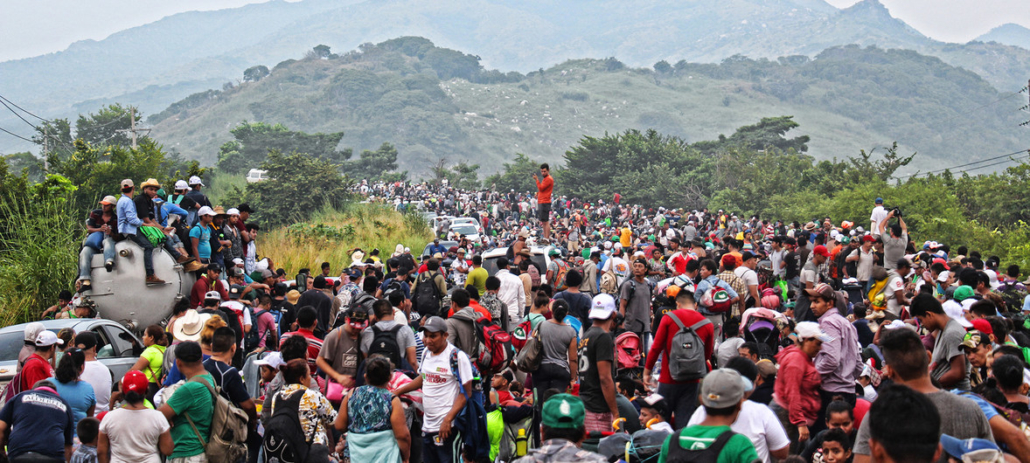 Over a year has passed since the migrant caravans from Central America arrived at the U.S.-Mexico border. The migrant situation is complex and continues to have great effects on the economy, U.S. international affairs and the lives of thousands of people. The issue is far from resolving and continues to require attention, so here are eight facts about Central American migrant caravans.
8 Facts About Central American Migrant Caravans
Central American Migrants: The first of the eight facts about Central American migrant caravans is that the migrants are mostly from Central America's Northern Triangle, which consists of Honduras, El Salvador and Guatemala. The caravans began in Honduras and most of the migrants are Honduran but their Central American neighbors have joined them because they face similar issues of violence and poverty. These people traveled through Central America and Mexico until they reached the U.S.-Mexico border.
The Largest Caravan: The biggest caravan, migrating in late 2018 and drawing international attention, started as a small grassroots social media movement in Honduras. One hundred and sixty Hondurans gathered at a bus terminal in San Pedro Sula on October 12, 2018. More and more people joined them along the route; the U.N. estimates that the group was as large as 7,000 people by the time it arrived in Tijuana.
Reasons for Migration: Those who joined the caravans are migrating for a better future which they hope is waiting for them in the United States. Gang violence and persecution threatens them in their home countries; the murder rate in Honduras is 800 times higher than in the U.S. The migrants are leaving in an attempt to save their lives. In addition, there is widespread poverty in the Northern Triangle and the migrants are hoping for higher salaries and better lives for their children in the United States.
Challenges on the Road: There are many hardships and health risks that the migrants face when traveling on foot, by bus or hitchhiking. The journey is arduous and results in road injuries and fatalities such as when a young Honduran man fell off a truck during the journey and passed away. Sunburn, dehydration and a continuous lack of access to clean water and sanitation are threats as well. The migrants also faced violence when crossing borders, such as when authorities used teargas. The group was dependent on local aid, such as church and civic groups or local government entities that provided food and water in the towns they passed.
International Law on Asylum: International law on asylum states that anyone who enters U.S. soil or wants to enter U.S. territory to claim asylum must be able to do so and receive a chance to have a court hear their case. Because of this, the United States legally cannot ban asylum seekers according to their countries of origin or force asylum seekers to return to countries where their lives are in danger. However, President Trump labeled the caravans an invasion and the U.S. responded with a zero-tolerance policy and threats to close the border. The U.S. passed the Migrant Protection Protocol in January 2019 which forces asylum seekers to wait for their court date in Mexico. Between January and December 2019 only 11 migrants out of 10,000 cases at the border received asylum, a rate of about 0.1 percent in the whole year.
Changes in Caravan Numbers: There was a swell of caravans until late 2018, but patterns in migration are changing. The caravans, while safer in numbers during the journey, were not successful at gaining asylum at the border. Current migrants have been traveling in smaller groups which are harder for others to track. Those who were in original caravans are now spread out, some suffering deportation back to their original countries, others opting to stay in Mexico or waiting in Mexico for a chance to apply for asylum or for their court date in the U.S. A small subset is even living in the U.S. undocumented or after gaining asylum.
Doctors Without Borders: Health issues are a pressing concern for members of the migrant caravan especially as they are living in temporary camps near the border. Many migrants suffer from injuries and illnesses that they sustained through their long journey and exposure to the element along with violence they may have encountered on the way. Aside from physical issues, the migrant community is also suffering from many mental health issues including anxiety and depression, a result of the prolonged stress of their journey and precariousness of their position. Doctors Without Borders has sent an emergency team to provide aid and treatment, collaborating with the Mexican Ministry of Health to attend to the needs of the migrants.
Border Kindness: Migrant caravan members at the border are not always able to meet basic needs. However, organizations such as Border Kindness have stepped in to provide immediate needs including shelter, food, water, clothing, medication and legal aid to a population with low resources. Its work is ongoing and pivotal in protecting and providing for the especially vulnerable including women, children and the elderly at the U.S.-Mexico border.
With so much happening globally all the time, people can sometimes push important issues aside as agendas shift. These eight facts about Central American migrant caravans are a brief overview of the basic situation and the changes occurring over time. The realities of the migrant crisis at the border continue to be relevant and pressing.
– Treya Parikh
Photo: United Nations
https://borgenproject.org/wp-content/uploads/logo.jpg
0
0
Jennifer Philipp
https://borgenproject.org/wp-content/uploads/logo.jpg
Jennifer Philipp
2020-01-31 07:30:44
2020-01-27 13:08:43
8 Facts About Central American Migrant Caravans