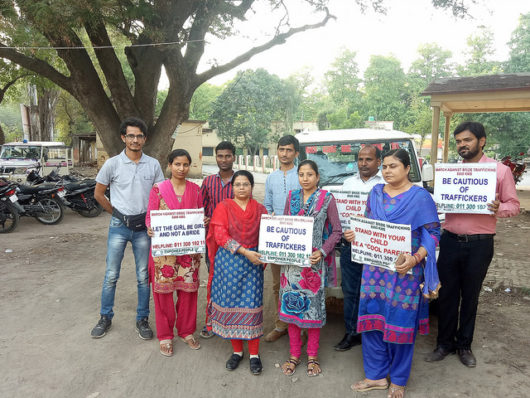 Human trafficking, defined as the illegal trade of humans most commonly for the purposes of sexual slavery and forced labor, currently claims an estimated 24.9 million victims worldwide, and the Global Slavery Index estimates that 8 million trafficking victims live within India's borders. In 2016, there were 8,132 human trafficking cases reported in India, a 20 percent increase from 2015, and there were 23,117 people rescued from the human trafficking system.
Of the people rescued, 60 percent were children, women and girls accounted for 55 percent, 33 percent were trafficked for sexual services, and 45 percent were trafficked for forced labor. While much of the global pervasiveness of human trafficking can be explained only by extreme poverty, political instability and war, the causes of human trafficking in India are more nuanced.
Causes of Human Trafficking in India
The causes of human trafficking in India can be explained in part by gender-based discrimination, responsible for the deaths of approximately 239,000 girls under the age of five in India each year. Gender-based discrimination is a cultural norm in India, as sons are considered more useful to the family than daughters. This heavily patriarchal society leaves girls with limited access to education, leading to gender gaps in both literacy rates and financial earning potentials.
According to the 2011 census, the literacy rate was 82 percent for men and 65 percent for women, and according to the 2013 census, men were paid 25 percent more than women. As a result of gender-based discrimination, the sex ratio in India is greatly skewed.
Because there are far more men in India than young women, bride trafficking, or the illegal sale of women for the purpose of marriage, is becoming more prevalent in India. In the more rural Northern states, where the sex ratio is worse than the national average, bride trafficking has become a norm. More than 90 percent of married women in these Northern states have been sold from other states, some as many as three times, often first becoming brides as preteens. Gender-based discrimination in India has perpetuated a societal structure that strongly favors males over females to the point of self-destruction, as men are unable to find wives, thus driving demand for the human trafficking of women in India for the purpose of marriage.
Sex Trafficking
Another cause of human trafficking in India is a lack of opportunity in India's poor communities, especially for uneducated women, to provide for their families. In 2012, only 43 percent of women in India worked regular wage or salaried positions. Victims of sex trafficking in India are predominantly young, illiterate girls from impoverished families in rural states. Although poverty is decreasing in India, 28 percent of the population still lives below the poverty line.
Poor communities are especially vulnerable to human traffickers, as they often offer better job opportunities or debt relief to lure victims. With limited opportunities to make money, offers like these are hard to decline for young women. Sex trafficking victims average 10 to 14 years of age, down from its previous average of 14 to 16, because younger girls are thought to be less likely to carry sexually-transmitted diseases.
Forced Labor
The causes of male trafficking in India is primarily tied with forced or bonded labor. Bonded labor, defined as a system of forced or partly forced labor under which a debtor accepts an advance of cash for a pledge of labor, by the debtor or any member of the debtor's family, for the benefit of a creditor, is deeply entrenched in India's social structure. While bonded labor was abolished in India in 1976, many industries who rely on bonded labor schemes for their workforces have turned to the human trafficking trade for workers in their spinning mills, granite quarries and brick kilns.
Like the bride and sex trafficking trade, forced labor traffickers recruit victims from poor, rural areas of India, promising lump-sum payments at the end of their contracts. Workers are meagerly compensated for their labor, and terrible working conditions provoke illnesses that lead to wage advances and loans that keep the worker in lifelong debt to their contractors.
Solutions
The Government of India has been making strides to address its human trafficking problem by heightening its border security, increasing its budget for aid to trafficking victims and drafting an anti-trafficking bill. In February 2018, the Union Cabinet passed the Trafficking in Persons Bill to be voted on by Parliament. If passed, the bill would criminalize aggravated forms of trafficking and establish a national anti-trafficking bureau, along with locally stationed anti-trafficking units. This bill also includes methods to rehabilitate victims, addresses physical and mental trauma and promoted education, health and skill development.
Additionally, the Rescue Foundation, established in 2000, helps to investigate, rescue and rehabilitate victims of human trafficking in India. Rehabilitation programs include education, computer training, legal aid and counseling. As a result of the Rescue Foundation, more than 5,000 victims have been rescued and more than 15,000 have been rehabilitated and repatriated.
The causes of human trafficking in India include gender discrimination, a vulnerability of the impoverished population and the desperation of the impoverished to support their families. Trafficking industries in India are taking advantage of the plight of India's disadvantaged and impoverished population for the benefit of others, as trafficking victims are rarely paid as they're promised.
However, human trafficking in India seems to be endangered as the government progresses in reducing human trafficking in the nation by increasing its border security, aid for trafficking victims and passing the Trafficking in Persons Bill to Parliament. Moreover, nongovernmental organizations like the Rescue Foundation have been successful in rescuing, rehabilitating, and repatriating victims of trafficking back to their families.
– Jillian Baxter
Photo: Flickr
https://borgenproject.org/wp-content/uploads/logo.jpg
0
0
Kim Thelwell
https://borgenproject.org/wp-content/uploads/logo.jpg
Kim Thelwell
2019-02-03 19:30:17
2019-05-14 14:10:10
Causes of Human Trafficking in India