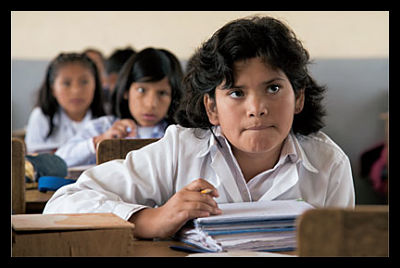 Education in Bolivia appears to be lacking: one in every seven children in Bolivia does not complete primary school, and the majority of Bolivians never go on to secondary school. In fact, over one million Bolivians over the age of 15 are illiterate. This lack of education contributes to the overall poverty Bolivians face. What factors are contributing to this lack of education? Here are the top four:
1. Classes are mainly taught in Spanish, but some children learned to speak Quechua and Aymara at home. Many children, especially those from rural areas, cannot understand what is being taught. Being taught a second language in school is also not typical. It is easy to see why kids would become discouraged and decide to drop-out.
2. Due to widespread poverty and not prioritizing education, schools can be very run-down with little to no proper classroom materials. While there is a lack of resources in Bolivia in general, schools are ranked at the bottom when it comes to addressing the country's needs.
3. The poverty in Bolivia also affects the teachers—they often go on strike to protest for higher wages and other related issues. This leaves children without teachers for sometimes days or even weeks at a time.
4. The primary reason for a child not being in school and the shrinking literacy rate in Bolivia is poverty. Children in urban areas are able to go to school on average for 9.4 years, while those in rural locations only make it on average for 4.2 years. Many children have to work and help support their impoverished family rather than go to school.
Some changes to education in Bolivia have been made, however, with the help of nonprofits. Many organizations have helped provide classrooms and classroom materials in decent condition. One organization, the Foundation for Sustainable Development, helps provide training, tutoring, childcare and workshops to assist Bolivians with their educational needs. When given support and better learning conditions, children typically stay in school and even begin to learn at higher levels than their peers who are not given that support.
If their educational needs are met, they are more likely to succeed. Bolivian children should receive the education they need to thrive.
– Melissa Binns
Sources: Bolivia Bella, Foundation for Sustainable Development
Photo: Netpublikationer
https://borgenproject.org/wp-content/uploads/The_Borgen_Project_Logo_small.jpg
0
0
Borgen Project
https://borgenproject.org/wp-content/uploads/The_Borgen_Project_Logo_small.jpg
Borgen Project
2015-02-26 12:00:05
2020-07-16 09:44:36
Top 4 Reasons Education in Bolivia Lags