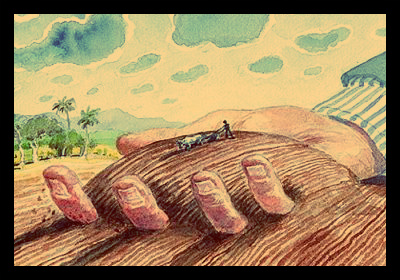 Natives of Ethiopia's Omo River Valley are having their way of life threatened by state-run land grabbing projects designed to develop the area. The valley consists of the traditional lands of the Bodi tribe, which is being forced into government-run villages. These natives have no one to help them; the government's wants only destroy their land.
Much of the development is being allocated to state-run sugar plantations. In the last 15 months, most of the tribe's traditional lands have been wiped out. The repercussions of the government's move will likely affect more than just the 7,000 members of the Bodi tribe.
The development consists of the construction of not only sugar plantations, but a large dam within the Omo River basin. The construction of the dam is projected to be the most devastating of the government projects. It will take the majority of the water present in the river basin with the potential to affect over 500,000 Ethiopians.
No social impact studies were done prior to the implementation of the project, the consent of the tribes occupying the river valley was not obtained and absolutely no one has received any type of compensation for the hardship endured by the forced relocation.
The dam, named Gibe III, will be responsible for adjusting river flows to aid commercial agriculture in the valley. Some believe that this will cause a severe shortage within neighboring bodies of water.
Lake Turkana is situated nearby and is expected to experience a severe drop in its water level. Some are expecting the further development of sugar plantations to result in a water level drop of 16 to 22 meters.
Due to the project's controversial nature, it has failed to receive funding from many institutions outside of Ethiopia. The World Bank, African Development Bank and the European Investment Bank all decided not to fund the project. However, China's Industrial and Commercial Bank (ICBC) has come through to provide funds.
Sadly, the development of the Omo River Valley is just a footnote in the long list of human rights abuses the Ethiopian government has inflicted upon its people. The government routinely makes a sham out of its "democracy" with one party winning elections time and time again despite the presence of other political parties.
Criticism of the government is routinely punished. Many journalists have been tossed in jail for simply highlighting government abuses. One journalist, Eskinder Nega, received an 18 year jail sentence for criticizing the government. There are also frequent crackdowns against the Muslim minority who have peacefully protested for the freedom to worship.
There does not seem to be much the average Ethiopian can do to evade the impact of this land grabbing development project. Barring intervention by diplomatic forces outside, the Chinese-backed development project will go on as planned and thousands of innocents will suffer for it.
– Zachary Lindberg
Sources: The Huffington Post, Human Rights Watch
Photo: Any Uak Media
https://borgenproject.org/wp-content/uploads/logo.jpg
0
0
Borgen Project
https://borgenproject.org/wp-content/uploads/logo.jpg
Borgen Project
2014-03-05 04:00:21
2016-12-15 14:40:09
Land Grabbing in Ethiopia Threatens Native Population