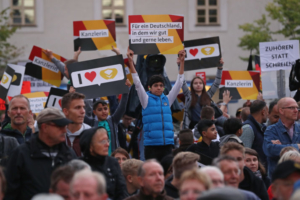 Historically, Germany has not been without its economic or financial hardships. Since the 1990s, nearly a quarter (or 15%) of Germany's population has had the classification of being poor. What is Germany doing in the modern age to combat a significant and stagnant impoverished population? Additionally, why have Germany's poverty rates not reflected the country's staggering economic growth? Finally, how is Germany's poverty-reduction legislation impacting refugee families? This article will illuminate the radical legislation and innovations about poverty eradication in Germany including what the country has implemented to reduce inequality, domestically and globally, in the 21st century.
The BMZ Behind It All
Poverty eradication in Germany began with the BMZ (a German-language acronym for the English-translated "Federal Ministry of Economic Cooperation and Development"). The BMZ is solely responsible for all affairs regarding poverty relief and economic development in Germany and abroad. In recent history, the BMZ has committed itself to addressing the underlying factors, circumstances and mechanisms that create poverty in the first place. In the early 1990s, the BMZ published international and domestic development goals which, to this day, influences the nation's fight against poverty. Strong social welfare, personal incentive for work and widespread access to education reduced the national proportion of people experiencing poverty to as low as 7% in 2007.
At the time, radical steps like systemic reformations and direct focus on franchising majority impoverished groups of people were novel and began Germany's repertoire as a powerful benefactor to its poorest constituents. With recent international crises (like the Syrian Civil War) and the advent of automation, however, Germany's poverty line has all but slowly grown. However, a recent 6.1 billion euro ($7.2 billion USD) expansion of Germany's social welfare program, Hartz IV (dedicated to long-term unemployment) spells relief for many displaced and at-risk peoples in Germany.
Young Families, New Challenges
Starting a family is, unquestionably, one of the most difficult and unique things a couple (or individual) can undertake. Additionally, it is no short order to both raise a young family while providing for it – and, sometimes, it is nearly impossible to maintain a "work-life balance," which typically ends in financial hardship. Poor families are at risk to begin with; a new child may well be the tipping point into impoverishment, and the cycle only proliferates when families raise children in poverty. Enter one of Germany's most radical pieces of legislation, the Parental Allowance and Parental Leave Act, created exclusively to alleviate the financial stresses that new families often face. New parents may receive up to 60% of their income for up to 3 years, addressing underlying systemic cycles of poverty, especially with already at-risk, younger individuals, rather than focusing on short-term manifestations of it.
Providing low-risk, low-stress economic stability for growing families almost ensures that the cycle breaks as well. As of 2014, only 9.5% of children in Germany lived in poverty, compared to the nation's average of 14%. The Parental Allowance and Leave act has proven to be an extremely successful player in poverty relief in Germany.
International Commitments
Germany has not only invested in domestic poverty relief, it is also interested in working toward poverty relief internationally. Chancellor Angela Merkel has committed to doubling the nation's UNDP core funding to combat the economic hardship that COVID-19 has brought on internationally. Germany has been the largest single contributor to the UNDP's core resources since 2017 and has solidified that position by donating nearly $124 million to the core fund this year alone. What that means is increased spending power for the UNDP during the COVID-19 pandemic, which the UNDP predicts will cause the first reversal of human global development since the early 1990s. Germany's increased budget for the UNDP will go to essential poverty relief efforts in 130 countries that the pandemic has greatly affected, providing assistance for hundreds of millions across the globe.
COVID-19 Relief in Germany
At the start of the COVID-19 pandemic, Germany experienced its impact economically, socially and culturally much like the rest of the world. In Germany, the unemployment rate from March to April 2020 increased by 0.8%. Poverty rates have remained consistent as well, with surprising research showing that poorer workers are at no greater risk of succumbing to the novel coronavirus. What differentiates Germany's COVID experience is its radical response and mobilization against the extreme economic fallout COVID spelled.
The German government has committed an unprecedented $868 billion relief package for its most vulnerable populations, small businesses and manufacturers. In addition, Germany has expanded wage subsidies for furloughed individuals and executed a tax slash of 3%. In this exceptionally trying time, Germany has revolutionized the way the world thinks about social security, and it stands that German citizens will feel the impact of this emergency poverty relief in Germany for decades to come.
Germany has been a litmus test as a standard for social welfare since the dawn of the modern age. Poverty eradication in Germany is a multifaceted, extensive and progressive approach to the seemingly Sisyphean task of battling poverty at home and abroad. Strong COVID-19 relief plans, the groundbreaking Parental Leave Act, a dedicated ministry of economic affairs and a commitment to international well-being makes for innovative anti-poverty measures that are paving the way for the world.
– Henry Comes-Pritchett
Photo: Getty Images
https://borgenproject.org/wp-content/uploads/logo.jpg
0
0
Jennifer Philipp
https://borgenproject.org/wp-content/uploads/logo.jpg
Jennifer Philipp
2020-09-09 13:14:23
2020-09-09 13:14:23
Innovations in Poverty Eradication in Germany