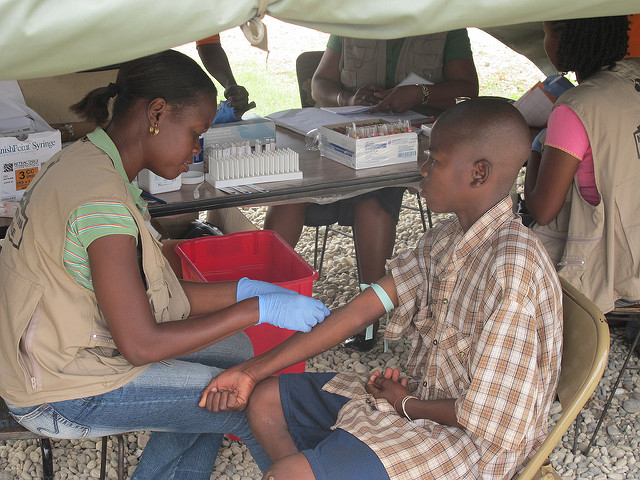 After the devastation of the 2010 earthquake in Haiti, health challenges greatly increased. Thousands of men, women and children were seriously injured or their livelihoods were threatened following the disaster. The National Blood Transfusion Center (NBTC) located in Port-au-Prince was destroyed, which reduced monthly national blood collections by over 46 percent.
The NBTC was responsible for the majority of blood collections as well as screening all of Haiti's blood donations for transfusion-transmissible pathogens. Many of the men, women and children in critical conditions that were waiting for blood transfusions were thus unable to get the treatment necessary to survive. Organizations such as the Haitian Red Cross relied on foreign aid in order to collect a blood supply to help as many patients as possible.
Rapid efforts were put into place to actively repair damages and increase the scale of blood donations following the earthquake. By 2014, blood donation rates had multiplied in Haiti. Before the earthquake, blood collections were 52 percent in Port-au-Prince, which is the largest city in Haiti. As part of the recovery plan, Haiti's Ministry of Health (MSPP) created the National Blood Safety Program (NBSP) in order to increase blood collections in outer regions of Haiti, hoping to decrease focus on the Port-au-Prince area, as this was where most of the damage was received.
Expanding the blood transfusion posts, where blood donations were completed and blood stored, was also a goal of the NBSP, as this would also encourage more active participation in blood donations throughout the entirety of Haiti. Prior to the 2010 disaster, Haiti was one of the poorest countries in the western hemisphere. This was only exacerbated following the destruction. Building blood transfusion posts, recruiting donors and obtaining healthy blood were intense challenges faced by health and humanitarian efforts.
However, with the collaborative efforts of MSPP and the Haitian Red Cross, as well as generous donations from international relief agencies, the NBSP saw their efforts paying off within years. By building a greater geographic area for all participants to access transfusion centers, blood donation rates multiplied in Haiti. By 2012, annual blood collections exceeded pre-earthquake levels and continued to increase. By 2014, collections were 36 percent higher than in 2009. Both the international community and local community within Haiti understood the necessity for blood transfusions in the country, and volunteers rose to the occasion.
Blood donation rates multiplied in Haiti due to other efforts as well, outside of building new facilities. In 2012, Haiti initiated a new plan to continue attracting volunteers for blood donations. The country aimed to increase the percentage of voluntary blood donors to 85 percent and regular donors to 40 percent. It also sent mobile blood drivers around Haiti to network with the community and discuss the importance of blood donations. Incentives were given out, like t-shirts, books and stickers, to attract locals to the idea.
Using technology to network also became an important driver. The Haitian Red Cross Society hosts a biweekly radio show to educate listeners on the subject and encourage life-saving behaviors. Particularly on important dates such as Blood Donor Day, the National Blood Transfusion Center produces messages on the radio and through text for people to donate blood, which can help compensate for limited stocks at different moments in time.
These combined efforts have clearly exemplified the dedication that Haiti has to reaching its goal of 100 percent donation rates in upcoming years. Its work has set an example for nations worldwide that have suffered from similar problems in obtaining efficient blood collections to treat those in need.
– Caysi Simpson
Photo: Flickr
https://borgenproject.org/wp-content/uploads/logo.jpg
0
0
Borgen Project
https://borgenproject.org/wp-content/uploads/logo.jpg
Borgen Project
2018-01-13 07:51:22
2019-11-11 22:45:22
How Blood Donation Rates Were Multiplied in Haiti