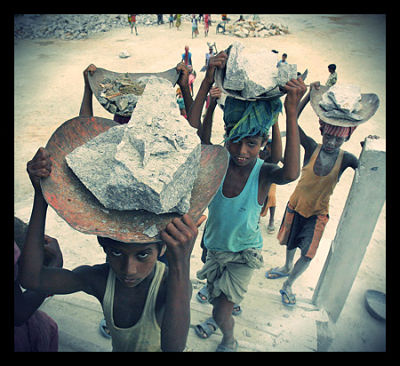 Assam tea is a common variety of black tea often preferred for its malty taste. It is produced in the Assam state of India, which is among the world's largest tea-growing regions. Tea pickers in Assam are paid 12p an hour. At about a dollar per day, this corresponds to roughly half the legal minimum wage for unskilled workers in Assam. These workers pick tea leaves used by almost every brand, from Lipton to Twinings.
Special labels, like Fair Trade, and certifications, such as those from the Rainforest Alliance or the Ethical Tea Partnership, do not guarantee that workers were paid fairly. Wages are established through collective bargaining by associations of growers, and every tea plantation pays the same wages. According to the Indian Tea Association director General Monojit Desgupta, these pitifully low payments are all the growers can afford. In addition to the basic injustice of underpaying workers, this mistreatment causes another deeply troubling problem: child slavery.
With the promise of work, decent pay, and a glamorous life in the big city, traffickers whisk countless children away from their struggling families. Most victims are girls as young as 12. The traffickers then sell the girls for about $50 to agencies that turn around and sell them to the wealthy as slaves at about twelve times that price. Many of these girls' families never seen them again, and others escape only after enduring appalling conditions for years. Two girls, Rabina Khatun and Elaina Kujar, have recently agreed to share their stories to draw attention to this issue.
A woman promised Rabina work in Delhi as a maid with a monthly wage of 3,000 rupees, or about $40. She worked for two years before she was allowed to go home. When she complained that she had never been paid, the woman sold her to three men who locked her in a house, raped her, and left her penniless at Old Delhi Station. Rabina, now 18, still harbors intense anger against the people who committed crimes against her.
Elaina's story is similarly appalling. Her family lives on a tea plantation in Assam, where a trafficker came promising a better life for her. She dreamed of being a nurse and believed Delhi would hold opportunities for her. The next four years of her life would be lost serving as a child slave. She recalls how her owner would rape her after watching porn while she laid on the floor beside him. When she told the man's wife what was happening, he called her a liar and told her to keep her mouth shut. Elaina's saving grace came when she was sent to a new owner, who took sympathy on her and allowed her to go home.
Elaina and Rabina are not isolated cases, but rather representative spokeswomen for hundreds of thousands of girls who are trafficked against their will. It has been estimated that 100,000 girls are being held in Delhi alone, with countless others sold to the Middle East. Assam has the highest kidnapping rate for women in India, with 3,360 cases registered with police last year. These girls are trafficked because their families are unable to support them adequately with the pitiful wages they are paid for picking tea leaves.
Pressure is being put on tea brands to demand higher wages and better conditions for tea pickers, and they are just beginning to comply. Unilever, the corporation in charge of Lipton Tea, has recently recognized trafficking is a major problem. The Rainforest Alliance, which has certified Lipton, claims it is working towards an agreement that will require workers to be paid a living wage. Major tea company Typhoo also states that it is working to improve their workers' conditions. These measures prove that public outcry can create change. Their continued efforts will ensure that workers on tea plantations are paid fairly, and that tea drinkers in the first world are not inadvertently contributing to the child sex trade in India.
– Katie Fullerton
Sources: Adagio Tea, The Guardian, Mirror News
Photo: Revolution
https://borgenproject.org/wp-content/uploads/logo.jpg
0
0
Borgen Project
https://borgenproject.org/wp-content/uploads/logo.jpg
Borgen Project
2013-07-31 04:39:47
2016-03-15 19:03:57
Is Black Tea Causing Child Slavery?