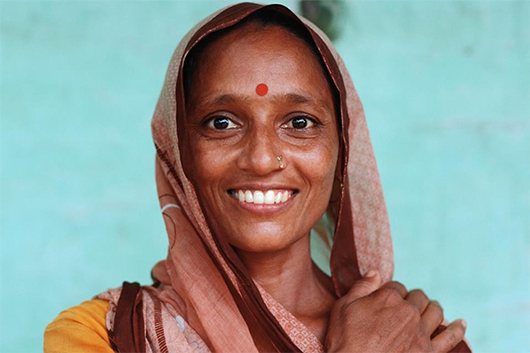 In India, 350 million people are at risk for iodine deficiency. Iodine deficiency leads to a variety of harmful conditions in adults, including hypothyroidism, goiter, an increased risk for breast cancer, and brain damage. In the unborn children of mothers with a deficiency, the condition results in a condition known as fetal hypothyroidism, improper conditioning of the gland in unborn children which can result in cognitive birth defects and even stillbirth.
So when Grey for Good, a charitable branch of the Singapore-based Grey Group, offered a solution to the problem, it needed to be innovative in combatting this very real public health risk. What they noticed is this: many Indian women wear a bindi, or a small red dot in the center of the forehead, for cultural or religious reasons. With this came an idea: is there a way to use the cultural trend to combat the condition?
Grey for Good teamed up with Indian NGO Neelvasant Medical Foundation and Research Center to begin distributing affordable bindis which double as iodine supplements. Called Life Saving Dot, or Jeevan Bindi, the back of each bindi is coated in iodine, creating a "patch" which can deliver up to 150 micrograms of iodine through the skin over the course of eight hours, which is the recommended amount of iodine for women.
Life Saving Dot is also affordable. A pack of 30 bindis is sold for 10 rupees, or just 16 cents. Perhaps this is why the bindis have reached over 300,000 women in 100 villages that the Indian government has deemed at risk for iodine deficiency.
In distributing Life Saving Dot, Grey for Good has taken an innovative approach to solve a problem, uniting medicine, technology, business and culture as a force for good. By bringing these things together, they have created a truly modern solution to the problem of iodine deficiency.
– Andrew Michaels
Sources: Take Part, NPR, UpWorthy, Global Healing Center
Photo: Life Saving Dot/Facebook
https://borgenproject.org/wp-content/uploads/logo.jpg
0
0
Borgen Project
https://borgenproject.org/wp-content/uploads/logo.jpg
Borgen Project
2015-08-08 01:30:11
2020-07-06 11:55:53
Life Saving Dot: Iodine Coated Bindis