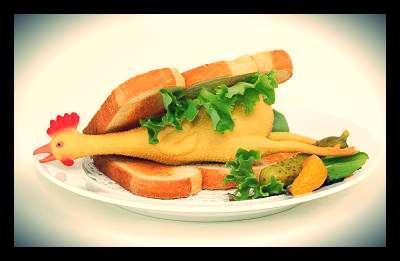 Vegan option. Meat alternative. Fake meat. From labels to a wide array of dishes conceivable, a slew of faux-meat products are not new to the market. Yet the innovators at Beyond Meat have created a faux-chicken alternative that is described to look, feel and more importantly, taste like chicken.
Beyond Meat founder Ethan Brown and his team have high ambitions for their product—hoping to market the faux-chicken in the meat aisle section of the grocery stores as opposed to being placed alongside tofu and other vegan options.
Whole Foods, a distributor of Beyond Meat, currently sells the meat alternative product although not necessarily in the meat aisle section.  Currently, Beyond Meat's beef alternative is in the process of wide release.
Located in Columbia, Missouri, Beyond Meat has in its employ, Fu-hung Hsieh and Harold Huff, University of Missouri professors who have spent a decade developing their pea protein and soybean based product into imitating a chicken-y likeness.
A study found the likeness of a food is just as important as the actual ingredients within regarding drawing consumers to meat options.
The process requires cooking the protein mixture in varying degrees of temperatures, which is then lengthened into strip to be grilled at the end of the process. In total, the method requires 90 minutes of cooking time in comparison to the energy and time it takes to produce factory farm chicken.
As a result, the chicken-like muscle fibers have drawn the attention of individuals such as Twitter Founder and long time vegan Biz Stone, former president Bill Clinton and even former professional boxer Mike Tyson.
A United Nations Environment Programme study reports that agricultural livestock is the source of 25 percent of green house gasses (GHG.) With the rising increase of meat consumption towering over production, satisfying meat consumers proves to largely be unsustainable. Meat consumption from 2009 to the next 40 years is predicted to increase by 65 percent, according to the Food and Agriculture Organization.
Furthermore, about 50 percent of the water used in the United States alone goes towards raising livestock. A pound of chicken can use up to 468 gallons of water.
At $5.29 per package, Beyond Meat's faux-chicken product hopes to draw a wide appeal given the chemicals infused in the market variety meat products as well as the environmental impact of our meat-eating tendencies.
Beyond the environment, Oxfam America's GROW Campaign aims to diminish global hunger by reducing meat consumption. The land usage and water consumption that essentially drives meat production which results in a competition for the world's resources. For this reason, individuals living in dire poverty levels face the brunt of meat consumption. Reducing a meal to meatless staves off pressure to the Earth's resources and saves what would otherwise have been an equivalent of 12 Olympic-size swimming pools.
Pretty soon, the age-old question of which came first, the chicken or the egg, will prove irrelevant. Beyond Meat hopes to revolutionize our diet beyond meeting our carnivorous choices.
– Miles Abadilla
Sources: Al-Jazeera, Care2, Farm Progress, Huffington Post Taste, Huffington Post, Slate, CNN, Oxfam America
Photo: Joe-Yonan
https://borgenproject.org/wp-content/uploads/logo.jpg
0
0
Borgen Project
https://borgenproject.org/wp-content/uploads/logo.jpg
Borgen Project
2014-02-10 14:57:44
2017-03-20 13:19:47
Beyond Meat: Faux-Meat Alternatives