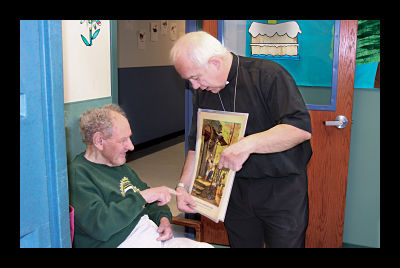 Nearly one and a half out of every 10 people in the United States has difficulty living independently and a similar ratio of the population is categorized with cognitive difficulty. The disabled community in America totals roughly 46 million people and generally receives far too little attention and assistance from the general public. But fortunately, there are groups that labor to create a better life for the disabled. Among these unsung heroes is Bethesda Lutheran Communities.
Since 1903, Bethesda Lutheran Communities have been playing an active role in housing, educating and advocating for women and men "living with intellectual and developmental disabilities." As far back as the early 1960s, Bethesda has been playing an active role in providing musical, occupational, physical and speech therapy. These invaluable resources facilitate personal growth for many who have been forgotten.
Deriving its name from a biblical story of healing waters, the word Bethesda is Aramaic for "House of mercy," and over the years the organization has extended their particular mission of mercy to 14 states. Bethesda Lutheran Communities has also diversified its offerings to the disabled, operating 20 thrift shops that serve not only as a fundraising arm, but as a place for the disabled to work and further their involvement in the greater community. The organization also runs a unique summer camp that is fully accessible for women and men with disabilities.
This fall, in conjunction with Concordia University Wisconsin, Bethesda is offering its first college level classes to the disabled. President and CEO John Bauer explains the philosophy behind this bold venture by saying, "People with developmental disabilities often find it very challenging to discover postsecondary opportunities. Bethesda College will provide choices and opportunities that are responsive to each student's unique learning style as well as help prepare them for future growth and success."
While there are many challenges ahead in their pursuit to offer a better range of choices for their people, Bethesda Lutheran Communities points to a bill that has been introduced in Congress. The ABLE Act of 2013 (H.R.647) would make it possible for disabled persons to pursue work and education while still receiving government aid, which is currently hindered by the Internal Revenue Code. While the bill has nearly 400 cosponsors in the House of Representatives, there has yet to be a vote to move it forward to the Senate.
True to their legacy as humanitarian innovators, the leadership of Bethesda Lutheran Communities is pushing forward in hopes that the law will catch up and help to improve the future of the disabled in America.
– Casey Hobbs
Sources: U.S. Census, Bethesda Lutheran Communities, BizTimes Milwaukee, U.S. Congress
Photo: Bethesda Blog
https://borgenproject.org/wp-content/uploads/logo.jpg
0
0
Borgen Project
https://borgenproject.org/wp-content/uploads/logo.jpg
Borgen Project
2014-10-18 04:00:16
2020-07-10 13:06:54
Bethesda Lutheran Communities Advocate for the Disabled