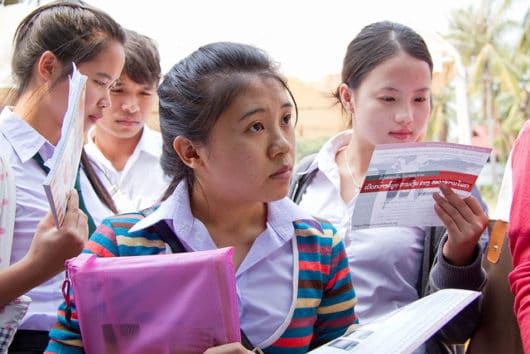 Laos is one of the most poorly developed countries in the world. Decades of colonial rule, economic mismanagement and government instability have created cycles of inter-generational poverty in Laos that currently affect young people in the country. Education attainment in Laos, specifically, lags behind surrounding countries and other developing countries. Additionally, as a relatively patriarchal society, Laos struggles to provide equal opportunities to the girls and boys in the country. In the article below the top 10 facts about girls' education in Laos are presented
Top 10 Facts about Girls' Education in Laos
The initial rate of enrollment is about equal for both genders. However, the retention and completion rate for both genders is much lower. Girls in smaller villages especially are not expected to finish primary school. In many cases, unsafe conditions for girls and male preference have contributed to a higher dropout rate for girls.
Girls are less likely than boys to attend school and complete their education. Girls lag behind boys in both primary and secondary education. Cultural norms that are inclined to males, poverty, racism and discrimination against ethnic groups and a general lack of attention given to girls' education all contribute to this disparity.
Girls from minority ethnic groups have the lowest enrollment and completion rates of any other child demographic. Over 50 percent of girls from ethnic communities in Laos do not attend school. Many of these ethnic communities do not speak Lao, the official language of Laos. As a result, children in these communities are unable to receive a proper education as educational materials are only available in Laos. Additionally, girls from smaller ethnic communities have a higher poverty rate and are less likely to have the opportunity to attend school.
The attendance rate for children in urban areas is around 95 percent.  That number drops to 85 percent in rural villages with roads and to 70 percent in rural areas without roads. The gender disparity in school attendance also widens in rural areas as 95 percent of both girls and boys attend primary school in urban areas, whereas only 77 percent of girls versus 83 percent of boys attend school in rural areas without roads.
Child marriages result in many underage girls dropping out of school. Around one-third of Laotian girls are married before the age of 18. These girls are far more likely to become pregnant and begin child rearing at a young age. This hinders their ability to attend school, as many Laotian girls are burdened with the responsibility of caring for children and are not supported by their husbands to attend school.
Organizations such as the Lotus Educational Fund are giving greater opportunities to rural Laotian girls to complete their primary and secondary education. This is done by providing girls with the materials they need to succeed in schools, such as textbooks, writing utensils, backpacks and bicycles to help them travel to school safely. Additionally, the Fund works to improve the health and wellness of the girls, by providing them with eco-friendly health kits and menstrual items. They also are working towards establishing scholarships to send more rural girls to school.
Training for teachers in rural areas improves educational access and quality in Laotian villages. This is especially true when investments are made to support training for young female teachers that focus specifically on improving the education of young girls in villages. Investments in educating female teachers by the Australian government help women in Laos pursue fulfilling careers and serve to improve the learning outcomes of primary school students.
Girls' education in Laos is improving, albeit rather slowly. The percentage of girls who receive primary education has improved by less than 0.5 percent each year since 2005. To improve this slow growth, programs in Laos are working to address the wide gender gap in education by training female ethnic teachers in villages to provide higher quality education and outreach to a greater number of girls. Although the development is slow, the gender gap in primary school attendance continues to shrink, especially in urban communities, where the attendance rate is nearly equal.
Educational nonprofit organizations are operating within schools in Laos to actively address gender and racial disparity in education. Organizations such as Save the Children, Room to Read and Plan International have launched educational programs in rural Laotian communities to get more children, especially girls, into schools. Save the Children has collaborated with the Ministry of Education and Sports in Laos to enact educational programs in the 10 poorest districts in Laos with a particular emphasis on ethnic minorities and girls.
Pressure from the U.N., international nonprofits and foreign aid providers have encouraged the Laotian government to place more emphasis on education and gender equality. The Basic Education Quality and Access in Laos program, implemented in 2014 in partnership with the Australian government, aims to get more children completing their education in Laos. While Laos still only spends 3.3 percent of its budget on education, the education sector in Laos has shown some growth because of foreign aid assistance.
These facts show that while educational access and completion is far from equal for both genders in Laos, there are numerous programs and investments being implemented to address this imbalance. Hopefully, greater investment in girls' education on Laos will allow the country to achieve levels of education comparable to other developing nation in the world.
– Tamar Farchy
Photo: Flickr
https://borgenproject.org/wp-content/uploads/logo.jpg
0
0
Kim Thelwell
https://borgenproject.org/wp-content/uploads/logo.jpg
Kim Thelwell
2019-02-03 13:30:30
2019-12-16 11:36:31
Top 10 Facts about Girls' Education in Laos