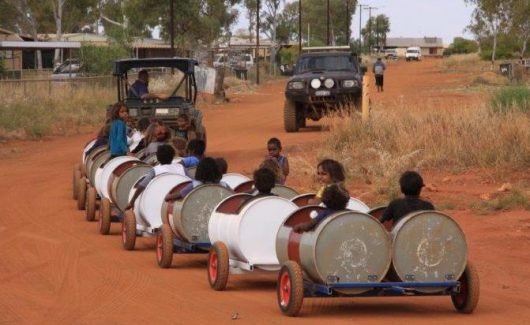 In the remote regions of Pilbara, Australia, a train snakes through red dirt tracks, but the cargo it carries is one of a kind. The Aboriginal community of Punmu, 700 kilometers east of Newman, have DIY'ed their way into converting a couple of metal drums into a unique barrel train.
John Reudavey, the chief architect of this novel school train, got the idea while holidaying in Perth, where he noticed a couple of drums being towed behind a ride – on the mower. He saw parents paying $2 for the kids to putt around the footy oval and an idea was born.
The Train
For the rugged and uneven terrain of Pilbara, Reudavey along with volunteers Donald Graham, Peter Doery and the Punmu community, linked barrels and attached them to a front tractor, which ultimately drives the entire system around. They mounted the drums onto metal framings with wheels and linked them together to form this 24-seater desert transit.
The carriages were decorated using design artwork from children and community members. Local industries like the Newcrest Mining, Telfer provided the necessary support for the successful creation of this project.
Reudavey's Western Desert Express now serves around 40 Punmu children which go to RAWA community school which is an independent school catering to students from Kindergarten to Year 12.
According to the Principal Sarah Mortimer, the ride is safe and positive and is welcomed by parents with younger kids, who can now send their children safely and timely to school. While school attendance has never been an issue, the biggest challenge faced by Mortimer has been student arrivals. The principal hopes that the barrel train would help address the issue of late arrivals and encourage students to stay at schools for the entire day.
For Reudavey, the biggest driver is the eager look on the faces of young children as they wait for their unique barrel train ride each morning, rain, hail or shine.
The Punmu Aboriginal Community
Punmu is an Aboriginal community situated in the very heart of Western Australia, located 640 km southeast of Port Hedland in the Pilbara Region of Western Australia, within the Shire of East Pilbara. Punmu are considered to be the most isolated communities in Australia. The Punmu community has a population of approximately 180 people and Manyjiljarra (pronounced Mun-dul-jar-ah) is the spoken language. Two main reasons the Martu live out in the middle of the desert are: to return to their traditional land and to save the community from the ill effects of alcohol, petrol sniffing and drugs.
– Jagriti Misra
https://borgenproject.org/wp-content/uploads/logo.jpg
0
0
Borgen Project
https://borgenproject.org/wp-content/uploads/logo.jpg
Borgen Project
2017-07-18 07:30:32
2020-06-17 17:30:30
Australian Aborigines and Barrel Train to Keep School Attendance