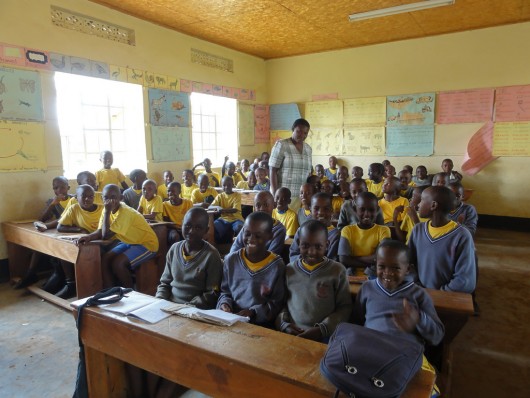 According to UNICEF, the enrollment rate in Mali, Africa is 80 percent. However, the achievement rate stands at 54 percent for boys and 44.8 percent for girls due to a low supply of qualified teachers, high student-to-teacher ratios and poor learning materials. The poor and rural areas of Mali fare worst of all, experiencing a 70 percent dropout rate before sixth grade.
The most qualified teachers accept positions in well-off urban communities, which offer sufficient pay and lodging. Consequently, inner areas traditionally receive the superior education in Bamako.
According to Yahoo News, Youchaou Traore, a former translator for diplomats founded a school in one of the poorest neighborhoods on the edge of Mali's capital—Bamako. Ten years later, École Privée Youchaou (EPY) is helping its students place first or second in national exams, surpassing the elite private schools.
Traore, who didn't begin first grade until the age of 13, is very familiar with the struggles and shortcomings of the Malian education system. He designed EPY to confront and rectify the complications that prevent impoverished children from receiving a quality education in Bamako. 
A 2011 report by Education International revealed that over half of Mali's 40,000 instructors are unqualified to teach primary levels. Students sit in class day after day and absorb less than a quarter of what they should be learning at their level. Furthermore, bribery for exam scores allows students to graduate without developing basic literacy and mathematical skills.
"It's possible to reach 9th grade here and barely be able to read," Traore told Yahoo News.
Instead of pulling competent instructors away from other schools, Traore chose members of his own community and put them through intensive training to learn teaching techniques and management skills.
The community-centered education system helped ease issues of money and trust that plague many Malian parents. The adults in Bamako feel comfortable approaching Traore and his staff to inquire about scholarships and other funding opportunities.
Traore does his best to accommodate families that can't afford school fees, allowing them to sell snacks to students. There are times when he provides funding from his own personal finances.
For students like Traore who start late or transfer, EPY offers catch-up lessons to ensure that each child who comes through the doors learns to read, write and solve mathematical equations.
EPY incorporates all of the high-risk groups—orphans, girls, extremely poor families—yet its dropout rate is less than one percent because the students feel comfortable there. They realize they have the chance to receive the best education in Bamako.
"If I have a chance to talk to people in the world, I would like them to understand that here in Mali it's not very easy, but students are serious," said Bourama Fomba, a 13-year-old student in a Guardian article.
– Sarah Prellwitz
Sources: Education International 1, Yahoo, Education International 2, The Guardian, UNICEF
Photo: Flickr1, Flicker2 
https://borgenproject.org/wp-content/uploads/logo.jpg
0
0
Borgen Project
https://borgenproject.org/wp-content/uploads/logo.jpg
Borgen Project
2015-12-13 01:30:57
2020-06-24 20:41:41
Bamako School: Improving Education in Mali