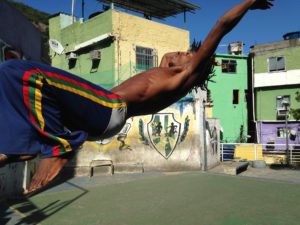 Children within Brazil's low-income slums, or "favelas," are among the country's most vulnerable. This vulnerability is due to a lack of educational resources or incentives to attend schooling, violent environments and the lack of opportunities for socio-economic growth within favelas. It is estimated that in Rio alone, 240,000 Brazilians live in the dire conditions of favelas.
Favelas and Poverty
Given their marginalization, progress toward achieving socio-economic mobility and employment is far more difficult for children in favelas relative to children of wealthier neighborhoods. They are at a heightened risk of involvement in crime, such as the extensive drug trafficking occurring within these favelas. Child labor within drug operations is a widespread issue affecting homeless and/or orphaned minors living on the outskirts of Sao Paulo and Rio de Janeiro. Young girls are often swept into the sexual exploitation occurring within the gangs.

In order to combat the injustice and marginalization of the favelas' youth, civil society groups have recently offered creative endeavors that have proven imperative to restoring hope and sparking change. Dance education in favelas brings Brazil's impoverished children closer to a sense of purpose and self, by offering an option for physical activity off the streets. In particular, the separate favela dance projects Espaço Aberto and Na Ponta dos Pés have collectively taught thousands of previously disempowered children lessons of resilience and patience in order to progress toward brighter futures.


Espaço Aberto
Opened in 1998, the Rio favela dance school "Espaco Aberto," meaning "open space," has the primary mission of spreading joy and inspiring young children and adolescents with the opportunity to dance.

The school mainly teaches ballet, a style typically associated with wealth given its formalities and years of extensive training required to master the art.

The school's co-founder and dance instructor, Yolanda Demetrio, seeks to unravel and transform disheartening favela stereotypes of indignity and permanent grievance. With professional dance instructors alongside her preaching messages of encouragement and incentive, the past 22 years have seen countless favela residents go on to follow Demetrio's footsteps— eventually opening their own dance studios and improving their economic circumstances.

However, the school is not meant to lead students to only pursue dance careers, although that may be a feasible result. Rather, Espaco Aberto motivates a historically overlooked population to find the potential within themselves. For example, just two years into dance studies, a young student named Jeferson became inspired by the school's value of goal-setting. His newfound confidence in his abilities emboldened him to re-enroll in formal school.
Na Ponta Dos Pés
The Na Ponta Dos Pés ballet dance project, translating to "Pointe Break," is specifically geared towards favela girls in the impoverished Alemao complex located in northern Rio. Professional ballerina Tuany Nascimento began the project in 2012 when she recognized that the daily violence and hardships faced in favelas scar vulnerable children— and particularly girls.

Historically, the more than 60,000 Alemao residents have suffered from the aftermath of poor political decisions, further endangering the community. Prior to 2010, a lack of government authority in the area resulted in the control of drug cartels threatening the security of civilians. Recent years have seen the sudden presence of armed police units with the formal intent to reduce narco-political power, yet it has only contributed to community violence and disorder. As residents are killed by the police and the death toll continues to rise, the violence results in instability. Female victims are disproportionately affected.

Similar to Espaco Aberto, Nascimento also wishes to offer an alternative to those falling victim to, or choosing, a harmful lifestyle.

"People get into crime because they don't have opportunities, but the ballet project gives them a chance not to fall into the wrong kind of life," said Nascimento.

The project began in a rented basketball court, safe from outdoor violence. Since then, as more people come to realize the importance of dance education in favelas, the project has received a several thousand-dollar grant to build a proper dance studio. Dance education in favelas inspires girls to imagine their worlds as extending past illegal activity and including endless opportunities. In the vice documentary entitled Ballet and Bullets: Dancing Out of The Favelas, in which Nascimento and her students share their stories, one described her newfound hope and determination.

The student said, "Poor people don't have a future? No. We're a lot more than that… Not just because we're ballet girls. You can do a plié, a grand écart, why can't you do other things in your life as well?… A black woman can be a businesswoman."
Overall Impacts of Dance
These two grassroots projects show how dance education can positively impact people living in favelas. Both dance studios emphasize patience, yet inevitable achievement. Newly found confidence in one's dance capabilities, as in the cases of Jeferson from Espaco Aberto and the student from Na Ponta do Pés, can transform into one's motivation to achieve improved living conditions through education and hard work. 

– Breana Stanski
Photo: Pixabay
https://borgenproject.org/wp-content/uploads/logo.jpg
0
0
Lynsey Alexander
https://borgenproject.org/wp-content/uploads/logo.jpg
Lynsey Alexander
2020-08-07 13:30:13
2020-08-03 16:37:20
Dance Education in Favelas: Uplifting Brazil's Most Marginalized