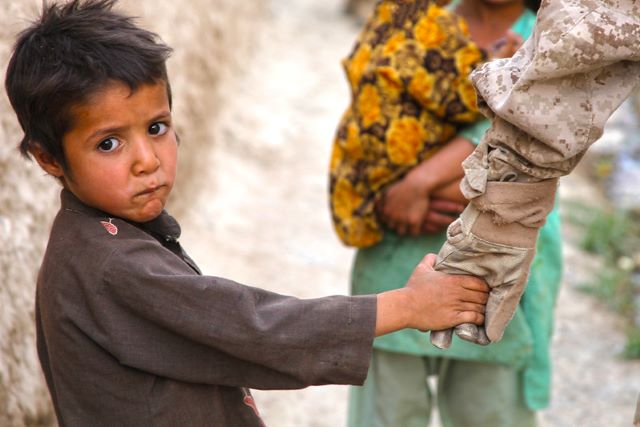 Afghanistan currently faces a large-scale human trafficking crisis that is rooted in centuries of abuse. Children and women are sold or kidnapped and forced into sexual slavery or armed forces. With the Afghani Government failing to properly protect victims and prosecute perpetrators, the U.S. Department of State and a network of NGOs are working to alleviate the problem.
The Systemic Issues
One of the major issues contributing to the human trafficking crisis within Afghanistan is the continued practice of bacha bazi, or "dancing boys", in which sexual abuse against children is performed by adult men. Although technically illegal, the centuries-old custom has been proven hard to get rid of, with many government and security officials being complicit with its continuation.
The U.S. Department of State has declared Afghanistan Tier 3, the highest threat level, meaning that it does not meet the minimum requirements for combatting human trafficking and is not making a significant effort to do so.
This has a significant impact on Afghanistan because according to the Trafficking Victims Protection Act, the United States will not provide nonhumanitarian, nontrade-related foreign assistance to a country that is ranked on Tier 3. According to the June 2020 Trafficking in Persons Report, the use of child soldiers and bacha bazi has continued. Although there have been investigations and arrests made in an attempt to end bacha bazi, no police officers involved were prosecuted.
Addressing Human Trafficking in Afghanistan
The Afghani Government has shown efforts to end human trafficking within its borders. In 2019, it joined the United Nations Office on Drugs and Crime (UNODC) on a global initiative to stop human trafficking. This initiative aims to allocate resources to countries in the Middle East and Asia that need assistance in the battle against human trafficking.
USAID reported that in 2019,  Afghanistan increased the number of Child Protection Units within national police precincts, preventing the recruitment of 357 child soldiers. Furthermore, the National Child Protection Committee (NCPC) was created to respond to the practice of bacha bazi.
USAID has worked to assist the Afghani by training government officials to prosecute human traffickers and abusers as well as giving assistance to shelter workers that give legal and social resources to victims. It assisted in the creation of the Afghanistan Network in Combating Trafficking in Persons (ANCTIP), a network of Afghan NGOs that work with victims of human trafficking.
NGOs within the country have provided most of the assistance to victims of human trafficking. Approximately 27 women's shelters in 20 provinces provided protection and care for female victims of trafficking. NGOs also operated two shelters for male victims under the age of 18.
Eradicating Human Trafficking
In order for Afghanistan to efficiently combat its human trafficking crisis and move to a lower tier level, Afghanistan needs to increase criminal investigations and prosecutions of suspected traffickers, especially in law enforcement and the military. Furthermore, traffickers must be convicted and adequately sentenced. This can be done by increasing the influence and powers of the NCPC and allowing the committee to remove public servants found practicing bacha bazi. Additional support from the country's government must also be given to survivors of human trafficking. Only by rooting out the systemic abuse within the top institutions of the country can Afghanistan effectively address its human trafficking crisis.
– Christopher McLean
Photo: Flickr
https://borgenproject.org/wp-content/uploads/logo.jpg
0
0
Lynsey Alexander
https://borgenproject.org/wp-content/uploads/logo.jpg
Lynsey Alexander
2021-02-12 04:53:06
2021-02-12 04:53:05
Human Trafficking in Afghanistan