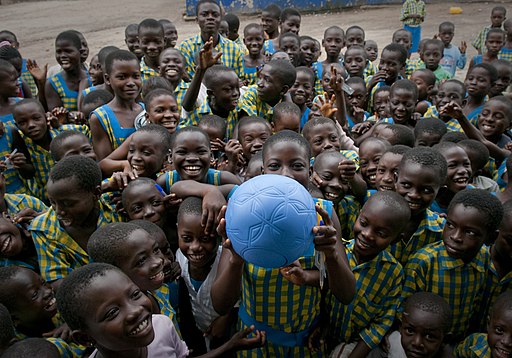 The buy one give one model is being implemented by a variety of businesses as a way to give back to those in need. The model works under the idea that for one item sold, another item is donated to a person or community in need. Here are five companies that use a buy one give one system.
5 Companies that Use a Buy One Give One System
Baby Teresa – Sammie Appleyard and Kirsty Dunphey founded the Baby Teresa project in 2009, naming their company after Mother Teresa. For every sale that is made on a baby romper, hat, bib, etc., another is given to a baby in need. The two women recognized that clothing a baby can be the difference between life and death — especially in areas where poverty is high and access to necessities like baby clothes is limited. When purchasing, customers have a choice of where to send the donated item. As of 2019, Baby Teresa has impacted families in Ecuador, Vanuatu, Cambodia, Vietnam, Uganda and more.
One World Futbol Project – The One World Futbol Project has a mission of bringing the "transformative power of play to youth living in disadvantaged communities worldwide" through its indestructible soccer ball. The ball was originally created by Tim Jahnigen after he saw a video of Darfur refugees playing soccer with a handmade ball. The idea was that the ball would be a solution for children who wanted to play but did not have the materials. Thanks to funding from international superstar, Sting, the company launched and has impacted more than 60 million lives. For every ball purchased, another is donated to a poverty-stricken community, war zone or refugee camp.
Figs – Figs is a company that specializes in selling medical scrubs. The founders of Figs recognized that many medical professionals in poverty-stricken areas lack access to basic medical supplies including scrubs. While owning a pair of scrubs helps medical professionals to look the part, they also contribute to clean work environments. To date, Figs has donated thousands of scrubs to medical professionals in need in more than 30 different countries through this charitable model.
SoapBox – SoapBox is a company that sells personal care products including body wash, hand soap, liquid soap, shampoo and conditioner. David Simnick launched SoapBox in 2010 with a mission to persuade people to change the world through everyday purchases. For every product bought, a bar of soap and hygiene lessons are donated to a community in need. More than 3 million lives in Cambodia, Haiti, India and other countries have been impacted by purchases made to SoapBox.
Out of Print – Since 2010, Out of Print has been selling t-shirts and apparel printed with covers of classic literature covers and quotes. With every item purchased, Out of Print donates one book to Books for Africa, helping to support literacy programs around the world. To date, the company has donated more than 3 million books to communities in need.
– Juliette Lopez
Photo: Flickr
https://borgenproject.org/wp-content/uploads/logo.jpg
0
0
Lynsey Alexander
https://borgenproject.org/wp-content/uploads/logo.jpg
Lynsey Alexander
2019-10-25 09:15:30
2020-01-18 14:47:23
5 Companies that Use a Buy One Give One System