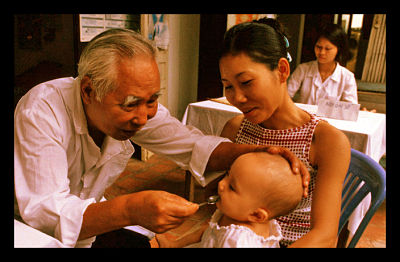 Improving access to reproductive health services in the developing world is critical to poverty alleviation. Pregnancy and childbirth-related complications are a leading cause of death of girls, aged 15 to 19, in developing countries. An estimated 7.3 million girls under age 18 give birth each year, and a great percentage of births occur in Africa. To counter this, the United Nations Population Fund (UNFPA) has announced it will partner with eight African countries to improve access to reproductive health services for millions of girls. The programs will span over the next three years, and will hopefully make a difference in lives of millions of young people.
"We are working specifically to ensure that the continent's adolescent girls, between the ages of 15 and 19 – some 45 million of whom live in sub-Saharan Africa – get a good education, are able to decide whether and when to marry and have children, are protected from HIV, remain safe from violence, and have their fair share of opportunities to work and contribute to the economic development of their countries," said UNFPA Executive Director Babatunde Osotimehin.
UNFPA will partner with the Democratic Republic of the Congo, Ethiopia, Mozambique, Niger, Nigeria, Sierra Leone, South Sudan and Tunisia. The programs will deliver comprehensive sexual and reproductive health services for young people. The hope is to reach disadvantaged and impoverished girls who are most at risk for poor sexual and reproductive health, violence and exploitation.
UNFPA programs will ensure young people have access to age-appropriate sex education, whether they are in school or out, to prepare them for adult life. The programs will bring together governments, young people, the private sector and other stakeholders to access the needs of young people.
UNFPA is the lead United Nations agency that promotes sexual and reproductive health services. They are at work in 150 countries, ensuring that young people have the information, services, and supplies they need to make safe and healthy decisions.
"Over the next three years, in partnership with governments and young people themselves, we will commit to making a tangible difference in the lives of millions of young people right across the continent. It is their rights we must uphold and it is they who are our best hope for a prosperous and peaceful Africa," said Dr. Osotimehin.
– Catherine Ulrich
Sources: UNFPA, UN News
Photo: Join Tokyo
https://borgenproject.org/wp-content/uploads/logo.jpg
0
0
Borgen Project
https://borgenproject.org/wp-content/uploads/logo.jpg
Borgen Project
2013-08-10 05:10:44
2017-02-01 12:59:15
Improving Access to Reproductive Health Services