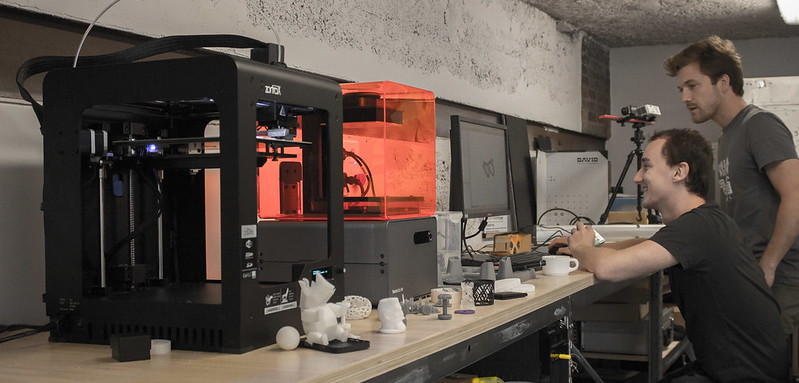 Guillermo Martinez is an industrial engineer from Madrid, Spain, who saw a need for upper extremity prosthetics in poverty-ridden communities. His journey began in 2017 with an investment in a small-scale 3D printer in Spain. Martinez learned how to use the printer with robotics and device-building videos, but he quickly stumbled upon a tutorial for a one-hand prosthesis. The prototype he created as a result sparked an interest in producing prosthetics for those in need, especially once he realized that the 3D-printed prosthetics cost just $50 to produce.
3D-Printed Prosthetics from Madrid
When he'd successfully produced a functional prosthetic arm, Martinez took a trip to the Bamba Project orphanage in Kenya. The World Bank noted that as of 2016, 35.6% of the population in Kenya lives on less than $1.90 per day. Martinez saw an unmet need for Kenyans who could not afford a prosthesis. With this new self-taught skill, he asked for volunteers to notify him of impoverished people who needed upper extremity prosthetics. The pictures that he received in response guided the 3D-printed prosthetics he made for orphans and the impoverished in Kenya.
Martinez relied on trial and error to produce functional prosthetics with low-cost materials. He utilized a combination of plastic, high-tension wires and rubber bands to produce a functional product. Each prototype only weighs about 10 kilograms and is completely collapsible for ease of transport. But Martinez began to investigate if it was possible to 3D print locally in impoverished communities instead of transporting the prosthetics. Seeing conditions in developing countries, Martinez recognized a slew of obstacles in his way, from a lack of education and unpredictable power outages. However, these obstacles did not deter Martinez from beginning the nonprofit organization AYUDAME3D.
AYUDAME3D
AYUDAME3D is a fairly new nonprofit organization that began with the hard work of just four members and has gained over 60 volunteers globally. Its goal remains to produce 3D-printed prosthetics for people in need. So far, AYUDAME3D has produced more than 250 prosthetic arms in more than 40 countries. The majority of requests originally came in via email, social media or connections with NGOs. But the organization understood that it needed to use the media, social media and partnerships with other nonprofits to reach a wider range of communities.
Additionally, AYUDAME3D provides a centralized space for volunteers and impoverished communities to have direct contact with the organization. This allows it to disseminate information about the guides for shoulder, elbow and wrist prosthetics. Furthermore, the organization's online form allows people to expand on limb specifications and provide visuals as needed. It also lets NGOs explore a possible partnership with AYUDAME3D. Finally, the NGO is growing its impact with a 3D printing curriculum for in schools in impoverished communities.
The Impact of 3D-Printed Prosthetics
These 3D-printed prosthetics from Madrid have had a profound impact on those missing upper extremity limbs. Robert from Kenya is one of many who stood to benefit from a prosthesis, having only one arm. Martinez printed a prosthetic in multiple pieces and brought it to Kenya to test its fit for Robert. Since this was one of Martinez's first prosthetics, he had to adapt his process while learning about muscular weakness and other factors in Robert's community. But this learning curve has created a well-established process at AYUDAME3D that is constantly adapting to new prosthetic situations.
AYUDAME3D also provided a helping hand when the coronavirus pandemic hit Spain. When the government declared personal protective equipment emergencies, the organization received a flood of requests for 3D-printed face shields. Accordingly, the nonprofit switched from printing prosthetics to personal protective equipment. So far, AYUDAME3D has distributed 9,115 face shields to over 150 organizations.
In an interview with Business Insider Espana, Guillermo Martinez expressed that 3D printing prosthetics started as a fun idea that developed into a way for him to help impoverished communities. Martinez didn't believe that he would find a large number of people needing upper extremity prosthetics, but he discovered that many Kenyans sought them when he arrived.  To meet this need, AYUDAME3D continues to produce 3D-printed prosthetics for impoverished communities worldwide.
– Sumeet Waraich
Photo: Flickr
https://borgenproject.org/wp-content/uploads/logo.jpg
0
0
Kim Thelwell
https://borgenproject.org/wp-content/uploads/logo.jpg
Kim Thelwell
2020-10-09 08:38:07
2020-10-09 09:22:51
3D-Printed Prosthetics Help Impoverished Communities