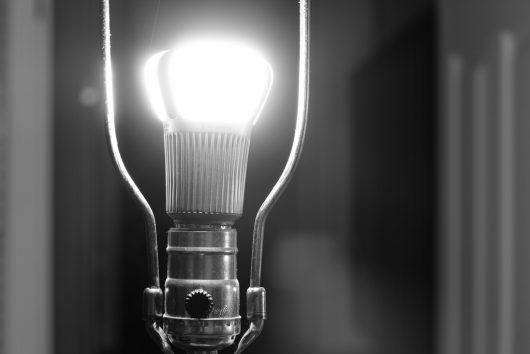 The GravityLight Foundation developed a gravity-powered LED lamp funded by Siemens to provide energy access in developing countries. The aim is to reach 15,000 people in off-grid areas of developing countries by 2017.
The light harnesses kinetic energy from gravity activated by a 12-kilogram weight. The weight can be made from accessible sources such as a bag of sand or rock. The resulting light lasts for 20-30 minutes, takes three seconds to recharge and is six times brighter than a kerosene lamp.
GravityLight costs approximately $10 and pays for itself over the course of two to three months when the cost of kerosene is removed.
The project is funded by Siemens Stiftung, a German engineering firm that sponsors a competition for sustainable development improvements. The gravity-powered light was chosen as the winner from 800 submissions across 88 countries.
GravityLight was tested in 26 countries with 55 partner organizations. Feedback received during these trials from countries such as Liberia, Guatemala and the Philippines provided invaluable feedback regarding the use of the light and the needs of those living off the grid.
The International Atomic Energy Agency (IAEA) maintains that 1.2 billion people in developing countries do not have adequate access to safe and affordable lighting. Kerosene is expensive, dangerous and an environmental hazard.
According to the World Bank, kerosene costs 20-30 percent of a family's income. Approximately $38 billion per year is spent on kerosene, the equivalent of $80 per kilowatt-hour for electricity, among the world's poorest citizens.
A kerosene lamp burning for four hours emits 100 kilograms of carbon dioxide into the atmosphere. Additionally, inhaled kerosene fumes are the equivalent of 40 cigarettes per day, killing approximately 1.5 million Africans every year.
The GravityLight Foundation intends to locally produce the lamps, creating a market for skilled jobs and contributing to local economies. The foundation is currently testing assembly in Kenya. The next goal is to provide GravityLight to 100,000 people in Indonesia and Peru in 2018.
Dependable lighting is taken for granted in developed countries. Technology such as GravityLight can change social dynamics in developing countries by allowing children to complete homework after dark, allowing adults to work longer and allowing families and friends to come together for interaction and other activities.
Light, even for just a few additional hours per day, can change lives and create opportunities in developing countries.
– Mandy Otis
Photo: Flickr
https://borgenproject.org/wp-content/uploads/logo.jpg
0
0
Borgen Project
https://borgenproject.org/wp-content/uploads/logo.jpg
Borgen Project
2016-11-07 01:30:44
2020-05-24 17:35:17
GravityLight: Energy Access in Developing Countries