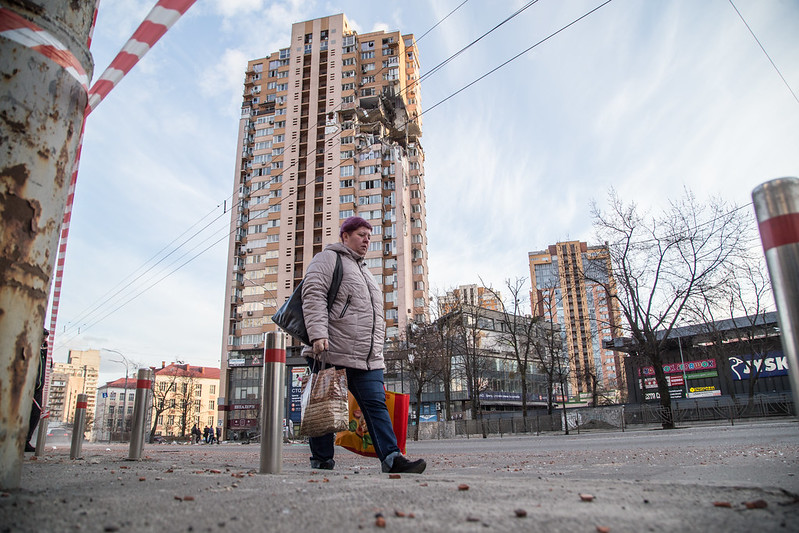 Russia's invasion of Ukraine began in February 2022 and has resulted in thousands of deaths and casualties on both sides. The attacks left 8 million people displaced in Ukraine by May 2022 and 7.8 million Ukrainians fleeing the country as of November 2022. With more than 250 days of the invasion, Ukrainians are likely to live with a blackout until at least March 2022, the EU will give a further £2.2 billion to help with the reconstruction of the country and the Word Health Organization (WHO) warned that Ukraine's health system is "facing its darkest days in the war so far." All of the factors have undoubtedly increased the poverty rate in Ukraine to 25% and future estimates it could be rising to 55% or more by the end of 2023.
Increase in Poverty
The damage that the war inflicted on infrastructure and the economy has obviously increased Ukraine's poverty. The unemployment rate has increased and is currently at 35% and over months some workers have seen their incomes reduced by as much as 50%. World Bank Eastern Europe Regional Country Director Arup Banerji stated that "As winter really starts biting, certainly by December or January, there may be another internal wave of migration, of internally displaced persons." As a result of the displacement of more people from their houses and fewer jobs available, the poverty rate in Ukraine will worsen as Russia's invasion continues.
COVID-19
The WHO and Ukraine's Ministry of Health announced that 22% of people in the country are struggling to access essential health care and COVID-19 spreading with 23,000 new cases reported since October 2022. With a low vaccination rate minus booster, millions of Ukrainians are not immune to it which has therefore led to an increase in cases. UNICEF delivered 2.3 million doses of the vaccine through the U.S. government for distribution in 23 regions of Ukraine. Recently, the Biden administration wrote a letter to Congress requesting $38 billion to help Ukraine with efforts, with $9 billion going towards COVID-19 vaccine access and long-term research.
Infrastructure Damage
Within recent weeks, Russian missiles and drones have struck 40% of Ukraine's energy infrastructure that have created blackouts across the country. Eighty percent of Kyiv residents have been deprived of water and 350,000 homes have lost all power. The World Bank believes that Ukraine needs $349 billion to reconstruct the country. The process of cleaning and clearing explosive remains of war will need $11 billion in the next two years and $62 billion in the next 10 years. Other costs such as the rebuilding of roads, schools and hospitals will need more funding and could take away from the government supporting residents then lead others into poverty, increasing the rate after the ending of the invasion.
Solutions
Ukraine has received military assistance from other countries, the U.S. is the largest provider having committed $19.3 billion since the start of the Biden Administration. The Disaster Emergency Committee has helped 248,000 people in six months with food aid and opened 200 centers for displaced people. Similarly, the British Red Cross launched its appeal and described how it would use people's donations. For example, £20 "could provide five blankets to families taking shelter." Since its launch, the organization has helped 5 million people with emergency relief and 8 million with access to clean water.
Looking Ahead
The poverty rate in Ukraine has worsened significantly as it faces the impact of war. The country will need a complete rebuild that could cost more than $500 billion and leaves people in life-altering situations without homes and jobs. Russia's invasion does not have an end date, it will continue to damage the economy and more importantly ruin the lives of Ukrainians.
– Mohamed Hassan
Photo: Flickr
https://borgenproject.org/wp-content/uploads/logo.jpg
0
0
Jennifer Philipp
https://borgenproject.org/wp-content/uploads/logo.jpg
Jennifer Philipp
2023-01-06 07:30:22
2023-01-03 12:10:49
Everything to Know About Poverty in Ukraine