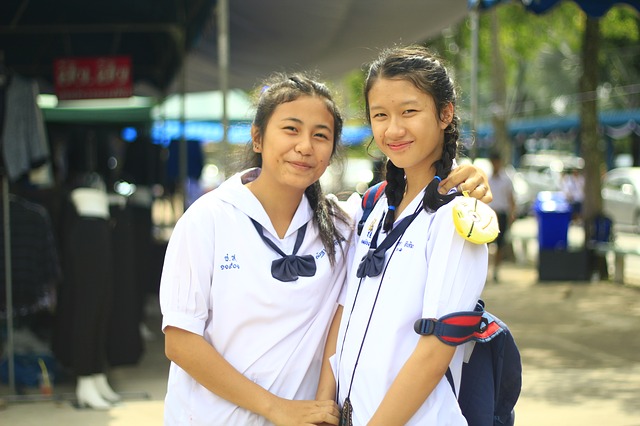 Girls' education in Thailand has seen numerous and ongoing efforts from the government, nonprofits and local organizations. There are a variety of programs in the country, across different organizations, that are currently working toward reducing gender discrimination and providing equal access to education.
School Enrollment Rates
For the most part, Thailand does not have disparities in school enrollment rates for boys and girls. The 1999 National Act promises education for all Thai children, and in 2005 that right was extended to all children living in the country regardless of nationality. Currently, elementary and secondary school enrollment is almost equal0 for both genders. In fact, girls have overtaken boys in secondary and tertiary education enrollment. This indicates that past efforts to create equal access to education have been successful. However, this does not mean girls do not face other forms of discrimination in education.
Girls' Education in STEM Fields
According to the Royal Thai Embassy in Washington, D.C., girls face discrimination in Science, Technology, Engineering and Mathematics (STEM) fields from as early as primary school. This discrimination then continues through higher education and into employment. Additionally, a report published in 2015 by the United Nations Educational, Scientific and Cultural Organization (UNESCO) indicated that this discrimination came in the form of gender stereotypes and a lack of female role models in STEM.
Girls' Education and Nonprofit Organizations
In 2017, the Development and Education Programme for Daughters and Communities Centre in the Greater Mekong Subregion (DEPDC) received the UNESCO Prize for Girls' and Women's Education. DEPDC is a local organization in Thailand and they received the award for their projects that aim to reduce exploitation of migrant children and women. The program uses education and other skills training to prevent human trafficking and other kinds of exploitation. However, DEPDC is just one example of an organization focusing on girls' education in Thailand.
Another such organization is Angel Covers that runs the Girls Advocacy Through Education (GATE) program. GATE focuses on girls in rural, northwest Thailand where families often cannot afford to send their daughters to school. Similar to DEPDC, this organization recognizes the potential of education in reducing human trafficking. GATE provides these children with school materials, lunches, transportation costs and more.
Finally, the government and nonprofits also work to improve girls' education in Thailand. In April 2018, the Ministry of Education announced that it would be partnering with the United Nations to promote girls' involvement in STEM education. This is a part of a 20-year national strategy called Thailand 4.0, which hopes to increase development in the country. Thailand is the first country in the region to adopt a "policy toolkit" from the United Nations for gender equality in STEM.
Future of Girls' Education in Thailand
To conclude, girls in Thailand do have equal access to education but there are often other obstacles in their way. Girls who do not attend school are at a higher risk of being human trafficked — organizations like DEPDC and Angel Covers focus on this aspect of girls' education. Additionally, girls face much discrimination in male-dominated STEM fields, which the government recently pledged to address. While Thailand has seen many improvements in girls' education, there is still work to be done. With continued commitment from the government and other organizations, Thailand will be on its way to achieving true gender equality in education.
– Liyanga de Silva
Photo: Pixabay
https://borgenproject.org/wp-content/uploads/logo.jpg
0
0
Borgen Project
https://borgenproject.org/wp-content/uploads/logo.jpg
Borgen Project
2018-05-09 23:12:22
2019-08-14 16:04:12
Girls' Education in Thailand