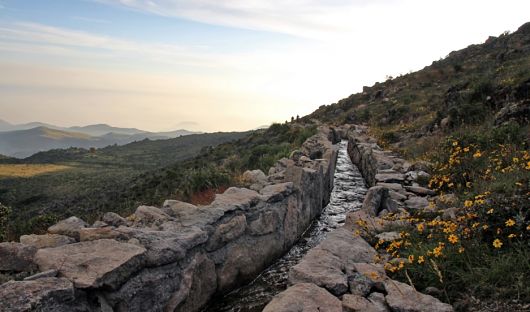 In an effort to alleviate its water problems, Peruvian hydrologists have been researching the most effective ways to provide Lima with a steady flow of water throughout the course of the year. However, it turns out that the most cost-effective solution is rooted in the past, not the future.
Researchers have found a solution to dealing with Lima's water crisis in a network of ancient canals in the Andes mountains, dated as early as 500 AD to the pre-Inca era. The Peruvian capital is seeking to restore the stone canals, or amunas, as they are called locally, by regrouting them. Hydrologists have studied other methods for retaining the water supply during the dry season but found that this would be the cheapest option.
Rather than requiring new infrastructure, this project is cost-effective because it only requires improvements to the structures already in place. It is also beneficial that the project is non-disruptive to the environment.
According to a report in New Scientist, when used in the past the canals used to capture water from rivers in the Andes Mountains during the rainy season to slowly seep through rocks to flow into springs closer to the ground later in the year during the city's dry season, which can last over half the year. The delay in water flow allows for gradual distribution of the water flow much later in the year.
However, the canals have not been maintained and generally just flow water directly downhill in a matter of hours. Hydrologists have noticed that regrouting the canals with cement would allow them to function as intended, potentially delaying water for weeks or months. This water flow, coming from over 3,500 meters above sea level, can provide the city with a more consistent water supply during its dry season.
Sedapal, the city's water company, discovered that this project would be the most cost-effective way to provide a more steady water supply from the Lima population of almost 10 million people. In order to fund the $23 million project, the company plans to use one percent of its water charges for the next five years.
While Lima is struck with drought during its dry season, its wet season is often comprised of floods and landslips from the Chillón, Lurín and Rímac rivers. By holding back water through this system for the dry season, these problems can also be avoided.
While research is still being conducted, Bert De Bièvre of CONDESAN, a Lima-based nongovernmental organization that is spearheading the restoration, believes that 50 of the canals can be revived, mostly flowing from the Chillón River, according to the New Scientist report.
De Biévre's work with American water specialists has indicated that this project has the potential to increase the water supply by 26 million cubic meters and decrease deficit during the dry season by 60%.
– Arin Kerstein
Sources: The Guardian, New Scientist
Photo: PRI
https://borgenproject.org/wp-content/uploads/logo.jpg
0
0
Borgen Project
https://borgenproject.org/wp-content/uploads/logo.jpg
Borgen Project
2015-07-08 07:06:19
2020-07-11 06:24:51
Restoration of Ancient Canals Creates Hope for Lima's Water Crisis