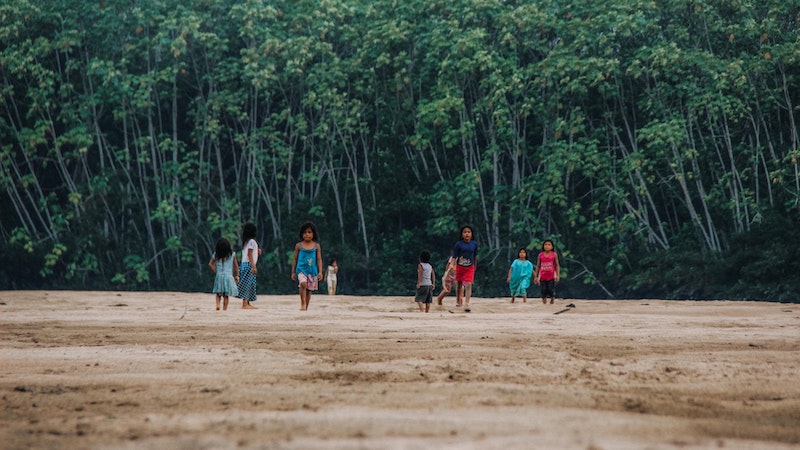 The Amazon forest is a critically important ecosystem and natural resource. It spans more than 2.3 million square miles and is home to around 30 million people. The Amazon lumber trade has left vast portions of the forest depleted and unsuitable for living or farming. After more than 15 years, Amazon deforestation rates have reached an all-time high. A recent publication by Brazil's National Institute for Space Research states that deforestation rates have surged 22% from 2020, with the lumber trade exploiting 13,235 km2 of the forest.
Amazon Deforestation and Poverty
Impoverished Amazonian communities rely on the rainforest for natural resources, food and water. However, once those resources disappear, it takes years, if not decades, for them to become replenished. Despite Indigenous communities standing as the best caretakers of the forest, their efforts do not match the power of international traders and the government.
Survival International, an Indigenous people's rights organization, has described the Awa people of Brazil as "the most threatened tribe on earth" because loggers and ranchers constantly threaten their homeland and reservation. A local woman named Pirai expressed to BBC that "loggers, farmers, hunters, invaders… they are all coming back, they are killing all our forest." Illegal logging pushes into land designated to various tribes. These communities face the harsh realities of Amazon deforestation, like decreases in biodiversity, which leads to changes in ecosystems and possible food sources.
Today, legal and illegal logging, cattle farms and soy farms have destroyed about 18% of the forest. However, in recent years the destruction of the rainforest has soared following the election of President Jair Bolsonaro. The Bolsonaro government has proposed several bills with the agenda of loosening environmental protections throughout the COVID-19 pandemic. With Brazil standing as one of the largest exporters of beef and lumber, President Bolsonaro has prioritized economic gain at the expense of ecological and societal protections.
SOS Amazon
Despite efforts of law enforcement to halt illegal lumber trade practices in the Amazon, the Bolsonaro government has dismissed several officers for enforcing environmental protections. After being assigned to the Amazon region for more than 10 years, Police Chief Alexandre Saraiva became one of those cases because of his commitment to combating Amazon deforestation. After leading Brazil's largest illegal lumber bust and investigating former Brazilian Environmental Minister Ricardo Salles, President Bolsonaro demoted and relocated Saraiva to an area of Brazil that is nowhere near the Amazon forest.
In response to his relocation and demotion, Saraiva teamed up with songwriter Christina Saraiva and Brazilian singer Esther to create the song "SOS Amazon." Saraiva and Ester released the song on YouTube prior to the 2021 United Nations Climate Summit to raise awareness among wealthy nations about their roles in Amazon deforestation. According to Reuters, Saraiva "estimated that 90% of export papers are forged to hide their origins." Therefore, the illegal lumber trade continues to be detrimental to the prosperity of the forest and local populations. The lyrics express that "the earth bleeds and burn. The fire flies and kills. I can't lie and rest. I can't just stay still."
These powerful words convey that the Amazon forest is essential to the prosperity of the earth and local population and many impoverished communities' futures rest on saving the rainforest. Saraiva expressed that "the Amazon is ours, Brazilian, but the obligation to preserve it is also ours. The international community needs to do their part by [ending the] acquiring [of] illegal Brazilian timber." Wealthy nations must hear Saraiva's message that local people and their livelihoods, in addition to vital natural resources, are suffering and dying because of Amazon deforestation, which may prompt them to end deforestation and save Amazonian communities.
How to Help the Amazon and its People
Often, when natural resources and habitats are in danger, everyday people feel powerless to create change. However, people can do plenty from the comfort of their own homes. One great way to start thinking about change is by learning about the issue. When people become educated on specific topics, they often feel more empowered to help. Another way to help is by checking one's carbon footprint and cutting down on paper usage.
According to Reuters, the top buyer of illegally processed wood is the European Union. As a result, ordinary people can prompt change by calling local representatives to support legislation that aids in rebuilding the Amazon instead of destroying it. Thousands of people making little changes in their lives to support the Amazon could create big impacts and brighter futures.
– Hannah Eliason
Photo: Unsplash
https://borgenproject.org/wp-content/uploads/logo.jpg
0
0
Jennifer Philipp
https://borgenproject.org/wp-content/uploads/logo.jpg
Jennifer Philipp
2021-12-05 07:30:26
2022-03-24 04:47:51
Brazilians Fight Amazon Deforestation Through Song