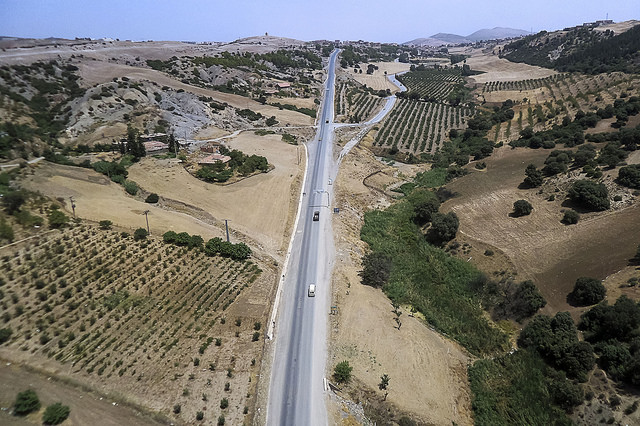 Recovering from a gruesome civil war that left the nation paralyzed between 1991 and 2001, Algeria has slowly been restoring the backbone of its infrastructure. Algeria's infrastructure system is highly important, as it serves as a gateway between North Africa and Europe.
The Algerian government has launched an extensive public investment program in an effort to make transport a top priority. According to CountryWatch, in 2010, Algeria began "a five-year $286 billion development program to update its infrastructure and provide jobs."
Another area of improvement that will directly impact infrastructure in Algeria is tourism. In 2012, the government began investing in the tourism sector and set a target of attracting 3.5 million tourists by 2015. The tourism sector has been the main focus of delivering employment in Algeria to better improve living conditions. The Minister of Tourism and Handicrafts, Hacène Mermouri, announced in December 2017 that 1,812 new hotel infrastructure projects have been approved by the Ministry.
These changes also impact nearby airports within the region. New terminals are being built to better accommodate international tourists in Oran and Algiers. Additional renovations include the establishment of Algeria's first underground metro system, as well as extending roads and rail services.
The Ministry of Transport has reaped the successes from infrastructure in Algeria, earning €35.7 billion between 2010 and 2014. Such investments are expected to improve Algeria's logistics performance, as well as reduce congestion and transport costs in a hub that serves as the primary source of transportation.
A surge in the number of vehicles that are to circulate Algeria's roads is also concerning, leading the government to focus on expanding the country's road network. According to the Ministry of Public Works, from the start of 2000 to 2014, the government invested in €46.9 billion in road infrastructure.
Some caveats that may impede Algeria's growth in the near future are the fall of oil demand from nations such as the U.S., allocating between 20 to 25 percent of all Algerian exports. In addition, there has been a decrease in gas and oil production, of which Algeria ranks fourth and tenth as the largest exporter worldwide, respectively.
Per a PricewaterhouseCoopers (PWC) report, this decrease is putting increasing pressure on Algeria's government to liberalize its economic and investment policies. Despite such internal worries, Algeria has significantly improved its logistics infrastructure, which had them ranked 140th in 2007, to which they have climbed to 96th out of 160 countries.
The central component of Algeria's projected growth resonates with the success of the $262 billion five-year investment plan. This project is aimed at "boosting domestic production and moving the country's economy away from oil and gas reliance," per CountryWatch.
In a nation where poverty remains widespread, a high unemployment rate, particularly among the youth, is obstructing the country from any consistent growth. Moreover, PWC reports that the labor market is inefficient, ranking "last globally in the 2013 Global Competitiveness Index."
Reforming institutions and monetary policies are vital to an environment crippled by political unrest and faced with strenuous complications. Infrastructure in Algeria, especially under the five-year plan, is set to ensure "significant continued development of transportation networks in the coming years," as Oxford Business Group reports. Apart from the advertised objectives, the future of Algerian development is also contingent upon its domestic production. Algeria has a plan, but its path forward in a rapidly adjusting global system remains to be seen.
– Alexandre Dumouza
Photo: Flickr
https://borgenproject.org/wp-content/uploads/logo.jpg
0
0
Borgen Project
https://borgenproject.org/wp-content/uploads/logo.jpg
Borgen Project
2018-01-09 07:30:19
2019-11-12 21:56:35
Infrastructure in Algeria Under Significant Improvement