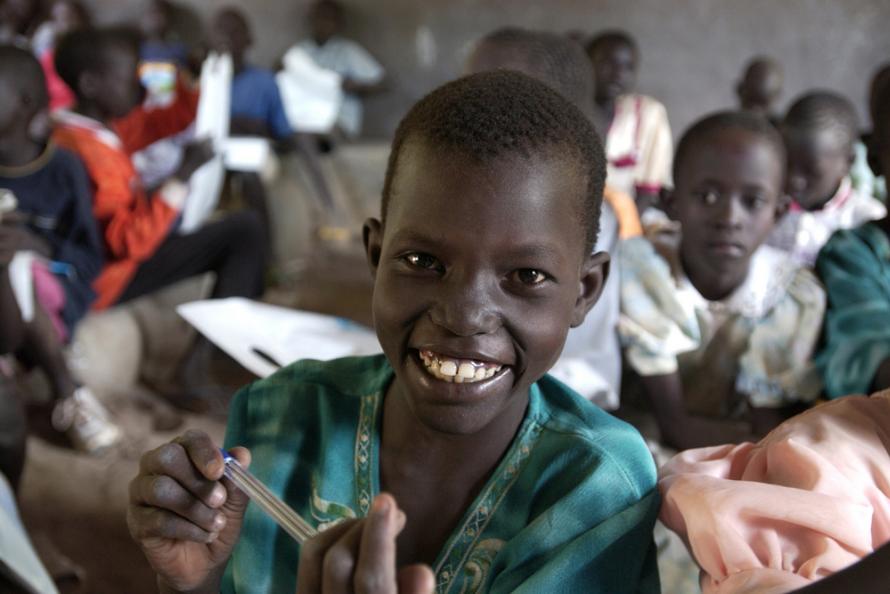 Despite legislative changes, education in Sudan continues to face challenges, especially in the midst of conflict and instability. The major obstacles faced in terms of education derive from poverty, refugee status and gender inequality. Keep reading to learn the top seven facts about education in Sudan.
Top 7 Facts about Education in Sudan
Sudan currently has one of the biggest numbers of out-of-school children in the Middle East and North Africa region. UNICEF estimates that more than 3 million children between the ages of 5 and 13 are not attending school. In addition, though primary school enrollment stands at 76 percent, secondary school enrollment is only 28 percent. Nearly 3 million 5 to 13-year-old children are not enrolled in school.
Sudan has a large number of unqualified teachers working in schools across the country. The Ministry of Education reports that 3,692 out of 7,315 of teachers in South and East Darfur are not properly trained nor sufficiently supervised.
The illiteracy rate in Sudan stood at 50 percent for women and 30 percent for men in 2016. However, overall illiteracy has since dropped to 24 percent.
Women and girls face major barriers to education. An estimated 49 percent of girls in Sudan do not attend school. Women are not protected against discrimination in classrooms, which subjects them to fewer opportunities and maltreatment. Sudanese society also adheres to gender norms that women only belong in the house to care for children and undertake domestic responsibilities. These stereotypes have affected women's access to higher education because they are typically culturally bound to domestic and maternal duties.
Sudan has worked toward major education reform in the past. Education in Sudan is free by law, however, many schools and universities charge extortionate fees throughout the school year, making schools too costly for children below the poverty line. Furthermore, the quality of education suffers due to the lack of government funding. In 2017, less than 1 percent of public spending went toward education in Sudan.
Many children in Sudan who need education are refugees from other countries. Sudan hosts large numbers of refugees from Eritrea, Syria, Yemen, Chad and South Sudan. As of February 2019, more than 1 million refugees and asylum seekers were displaced in Sudan. An estimated 24 percent of them were of primary school age (6-13) and 9 percent were of secondary school age (14-17). The United Nations Human Rights Council (UNHRC) and Educate a Child have teamed up to provide quality primary education to Sudanese refugees. Programs offered by the organizations include teacher training, provision of learning materials and construction/rehabilitation of classrooms. In 2016, 17,371 students were supplied with stationery kits, 763 students were enrolled in accelerated learning programs and 12 student committees were developed.
Global Partnership for Education (GPE) is another nonprofit working in Sudan to strengthen the education system. The GPE aims to improve access to textbooks, quality of the academic environment and overall strengthen the institutional capacity of the education system. The GPE has allocated more than $76 million toward building 2,000 classrooms across the country, providing grants to 750 schools, distributing over 6 million textbooks and establishing teacher monitoring.
Despite the challenges presented by these facts about education in Sudan, various organizations have already begun to work toward developing a better and more effective education system in Sudan. As Sudan undergoes slow recovery from decades of conflict and instability, education becomes a priority and a necessity to recuperate. In the coming years, Sudan may see more progress toward a more inclusive education system if stability grows and increased opportunities arise for minorities such as girls and refugees.
– Louise Macaraniag
Photo: Flickr
https://borgenproject.org/wp-content/uploads/logo.jpg
0
0
Kim Thelwell
https://borgenproject.org/wp-content/uploads/logo.jpg
Kim Thelwell
2019-08-30 06:07:03
2019-12-17 14:48:54
Top 7 Facts About Education in Sudan