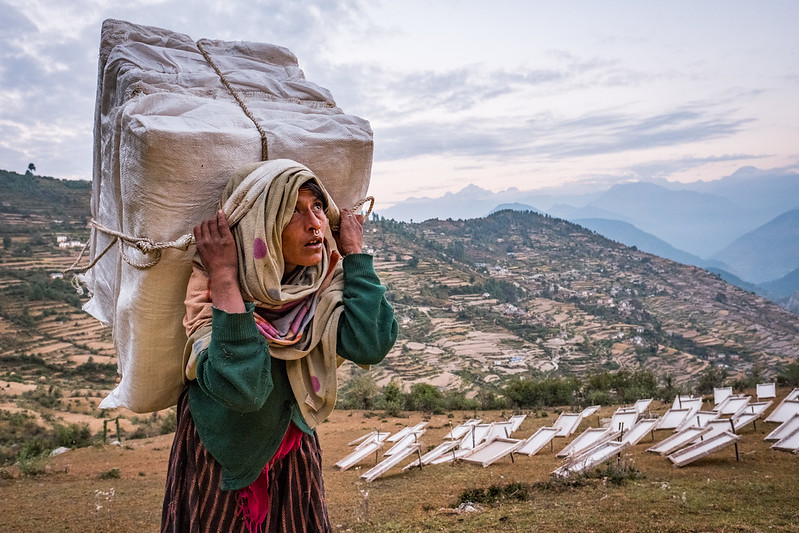 In certain developing countries, such as India, more than half of the population depends on agriculture, giving farmers living in poverty very few options for other means of income. Those in poverty live on less than $2 per day, resulting in them being less likely to be able to eat. Additionally, many of these people are farmers. In fact, according to the World Bank, two-thirds of all working people living in poverty globally have employment in the agricultural sector. Agtech programs are emerging to help raise farmers out of poverty.
The Plan
With 2030 approaching fast, the United Nation's Sustainable Development Goals (SDGs) are implementing action across the globe. The U.N. created 17 SDGs for countries to reach by 2030. The U.N. adopted these goals with multilateral cooperation during the Sustainable Development Summit in New York in 2015.
The second SDG's focus is to end hunger, create food security, better nutrition and promote sustainable agriculture. A huge focus of this goal is sustainable agriculture and rural development. Many international agencies, including the U.N., USAID, IFC and the World Bank believe that improving agricultural prosperity through agricultural innovations which provide better means to clean water and electricity is one of the most effective ways to reduce global poverty and hunger. Although the COVID-19 pandemic has negatively impacted both issues, the SDGs that the U.N. has set is still achievable by 2030.
The Path Forward
Programs such as Powering Agriculture, an international initiative that USAID, the government of Sweden, Germany and private sectors founded, focused on creating, funding and implementing Agtech programs to help farmers out of poverty. Started in 2012 and completed in 2019, the Powering Agriculture project worked with specifically selected agricultural technology (Agtech) solutions companies including Claro Energy in India, Evakuula in Uganda and Futurepump in Kenya providing sustainable solutions to farmers in rural areas where access to clean water and electricity affected their agricultural production, both harvest and post-harvest.
Claro Energy and Futurepump both produce solar-powered water pumps that help make irrigating more efficient, increasing crop yields and reducing labor. Claro Energy is taking it one step further and also produces mobile solar power grids in the form of small, operable trolly and portal roll-out solar panel packs that anyone can carry. These create mobile energy grids in remote rural areas where access to electricity was virtually impossible, allowing farmers in India to use other ag-tech solutions such as pumps, monitoring systems and data services to further increase their crop yields. The grids and pumps implemented in the initiative currently produce over 2,500 kilowatts of energy a day in India.
After the Powering Agriculture initiative, another joint international program emerged with the cooperation of the governments of Germany, the Netherlands, Sweden, the European Union and USAID. The Water and Energy for food (WE4F) initiative is a direct relation of the Powering Agriculture program, following where it left off in 2019 with goals of creating sustainable agriculture innovations focused on improving the access of water and energy to farmers in developing rural countries.
The initiative aims to fund innovators and create action through grants and subsidies so that Agtech programs can help farmers out of poverty by increasing crop yield, post-crop management, crop sales and more. There are currently 40 innovators with Agtech-based solutions partnered with the WE4F program, all aiming to help poor struggling farmers in rural developing countries. Here is a list of the first five.
5 Innovators Partnering with the WE4F Program
AbuErdan: Originating in Jordan, Egypt and Morocco, AbuErdan provides tech solutions for efficient and sustainable poultry farming.
Adaptive Symbiotic Technologies: This company began in India, the United States, Argentina and Australia. It provides bioensure fungal seed and plant treatment for water-stress resilience.
Agrosolar: Beginning in Myanmar, Agrosolar provides integrated solar-powered irrigation technology and services to smallholder farmers.
Alva Tech Limited: Alva Tech Limited functions in several countries including Botswana, India, Jordan, Kenya and more. It offers solar-powered treatment for water-scarce and saline areas.
aQysta Nepal Pvt. Ltd.: This innovator functions in India, Indonesia, Nepal, Colombia and Malawi. It enables farmers to access sustainable irrigation with a pay-per-harvest model.
Other Agtech Programs
Not only do Agtech programs help farmers out of poverty but they are helping open the doors to sustainable business and larger economic growth by opening business markets in artificial intelligence (AI), mainly in the form of apps. The International Finance Corporation (IFC), a World Bank Group, reported in May 2020 that AI in Agriculture can "help meet rising global demand for food and support a more inclusive and sustainable food system."
In India, the app CropIn makes it easy for farmers to upload pictures of their crops, allowing AI to create suggestions on "risk management, sales, warehousing, and sustainable farm practices." Another AI-based app is based in Cameroon. The company Agrix Tech has created an app that farmers with minimal education can use easily. It does not require an internet connection and uses the same idea as CropIn but focuses on plant disease and pest control.
Thirdly, Hello Tractor is an app that works in Nigeria, Kenya, Mozambique, Bangladesh and Pakistan which is essentially Uber for tractors. It allows farmers who own tractors to rent out their equipment to other farmers in need of it. This allows both farmers to either earn extra income off assets or save money in crop production.
With so many international programs and initiatives underway, the world could soon win the fight against global hunger. Additionally, the war against global poverty could result in its most significant class of members, farmers, growing closer to economic stability.
– Ali Benzerara
Photo: Flickr
https://borgenproject.org/wp-content/uploads/logo.jpg
0
0
Lynsey Alexander
https://borgenproject.org/wp-content/uploads/logo.jpg
Lynsey Alexander
2021-10-17 07:30:38
2021-10-14 13:26:06
AgTech Programs to Lift Farmers From Poverty