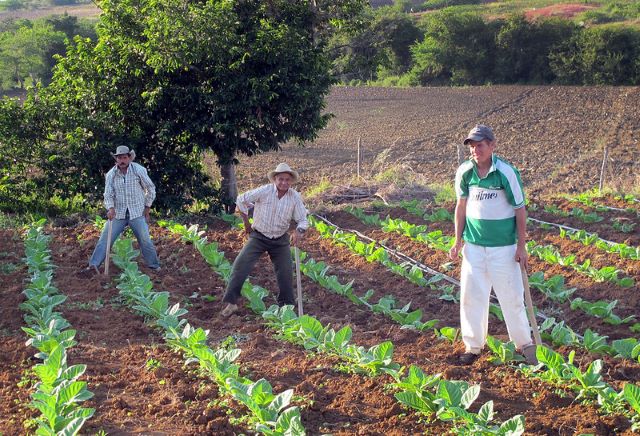 Poverty levels in Colombia have decreased by almost 15% between 2008 and 2018, yet significant inequality persists as poverty continues to disproportionately affect rural communities. In 2019, 36.1% of the Colombian rural population lived in poverty and 15% lived in extreme poverty, double the rate of poverty in urban areas. Effects of rural poverty in Colombia are greater among Afro-descendant people, indigenous groups, women and those with disabilities. The transition to agroecology in Colombia will positively impact farmers, especially rural farmers. It has the potential to mitigate environmental risks, protect farmers' health, strengthen food security and preserve the ecosystem, reducing poverty overall.
Colombia's Agricultural Industry
Over the past 60 years, the Colombian agricultural industry has greatly contributed to the growth of the economy, providing 16.45% of the country's jobs. Colombia has the highest use of fertilizer and the second-highest use of pesticides in Latin America. Colombia spends 35% of total food cost production on agrochemicals with pesticide use nearly quadrupling since 1990. Agrochemicals affect the health of people and the health of the land. Integrating sustainable agroecology in Colombia presents an opportunity to protect people's health and the ecosystem while minimizing environmental risks.
Health Risks of Agrochemicals
Agrochemicals can have adverse effects on the human neurological, immunological, respiratory and reproductive systems. The risks of exposure can result in long-lasting, chronic health outcomes for farmworkers and can especially affect pregnant women, children and older family members. In 2017, reports determined the existence of 8,423 pesticide-associated poisoning cases and 150 pesticide-associated fatalities in Colombia. Ruben Salas, a toxicologist at the University of Cartegena, predicts that chronic diseases in connection to pesticide exposure are frequently undiagnosed and underreported.
Despite the evident adverse health and ecological effects of agrochemicals, not all embrace the adoption of agroecology in Colombia. A study investigating factors that contribute to Colombian Campesinos' use of pesticides found that pesticide users do not believe pesticides are detrimental to human health nor the environment.
Fighting Environmental Challenges
Reports determined that pesticide use causes damaging environmental events, leading to agricultural depletion and socioeconomic conflicts. According to risk analysis, predictions have determined that changing weather in Colombia will affect food security by 34.6% and human habitat by 26.2%. As the majority of Colombian's in rural regions are already facing water shortages and land instability, an urgent need exists for sustainable solutions.
Sustainable Development Initiatives
To protect human health and the environment, efforts to implement agroecology in Colombia have proficiently provided alternatives to substitute traditional agricultural methods. The Food and Land Use Coalition, Yara International and Ecoflora are examples of groups that have developed effective strategies to diminish agrochemical use and promote sustainable agricultural practices.
The Food and Land Use Coalition (FOLU) working group prioritizes the development of sustainable and capable agricultural applications. In collaboration with the government, biotechnology companies and research institutions, FOLU is working toward certifying farms in Good Agricultural Practices, developing bio-inputs, bio-protection and agroecology throughout farming communities.
Yara International is a fertilizer company that assists farmers to promote sustainable crop practices. Yara agronomists collaborate with local crop nutrition experts to provide an individualized solution for farmers. Through engagement, market research, trials and meeting, Yara ensures farmers experience sustained success.
Ecoflora is a biocontrol company that creates natural color technologies while focusing on sustainable and ethical practices. In Colombia, Ecoflora has developed alliances with communities of African descent, indigenous people and those in rural regions. Ecoflora encourages the use of natural resources and sustainable practices within these communities to preserve the environment and ensure equitable social benefits.
Going Forward
The marginalized communities of rural Colombia are more vulnerable to the consequences of agrochemical use. An increase in farmer's understanding of agrochemical impacts, education on effective and sustainable agricultural management and novel technology training would promote the uptake of agroecology in Colombia. The government should continue supporting the integration of agroecological practices to protect the health and well-being of historically neglected communities. Furthermore, agroecology promotes sustainable food security, addressing food shortages, hunger and poverty overall.
– Violet Chazkel
Photo: Flickr
https://borgenproject.org/wp-content/uploads/logo.jpg
0
0
Saiesha
https://borgenproject.org/wp-content/uploads/logo.jpg
Saiesha
2021-03-04 01:30:13
2021-03-03 15:53:13
The Benefits of Agroecology in Colombia