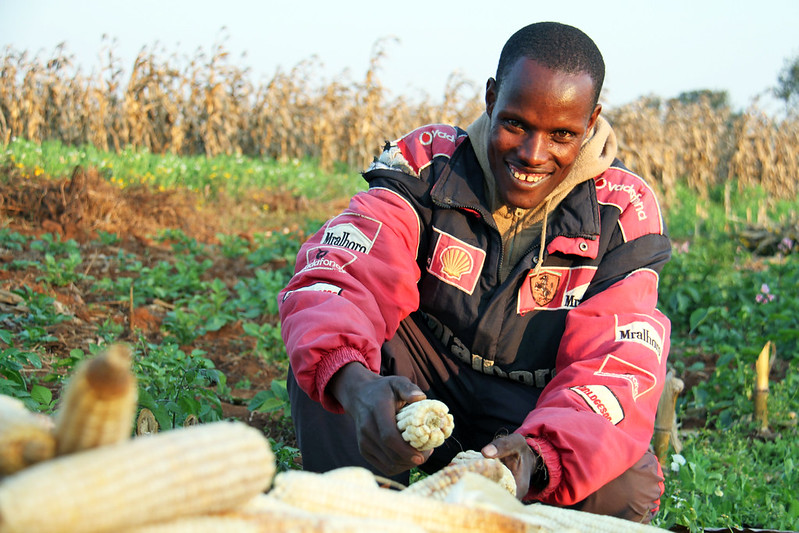 According to the World Bank, investment in agriculture is one of the most vital steps toward lifting entire populations out of poverty. Not only is the industry a hugely significant employer in many developing countries in Africa, but it also produces the vast quantities of food needed to combat food insecurity.
Adapting to climate-related environmental changes often requires finding innovative solutions, and the rapid expansion of agriculture technology in Africa offers some exciting prospects. Here are three countries that are using promising new tech to achieve this goal.
Seed-Bulking in Zambia
Zambia is a landlocked, largely rural country in southern Africa, and its agricultural sector makes up roughly 20% of its GDP. As in many African countries, Zambian farmers are large producers of cassava, a woody shrub whose root is an excellent source of carbohydrates. However, they were struggling to produce strong crop yields due to a lack of access to high-quality planting materials. The African Development Bank's program, Technologies for African Agricultural Transformation (TAAT), had an idea to help solve this problem: seed-bulking.
Seed-bulking is a method whereby farmers keep some seeds from their target crop to grow in a controlled environment. This helps to increase seed production, which means that farmers can then grow more crops and increase their yield.
Fifty-eight seed-bulking farms opened across Zambia in 2020 as part of TAAT's initiative. It projected that this would allow farmers to produce 43,500 tons of cassava root, which, once processed, would be capable of feeding more than 3.6 million people.
More recently in 2022, the African Development Fund approved a loan of $14.4 million, some of which will be used to provide seeds and fertilizer to Zambian farmers. Alongside the innovative practice of seed-bulking, this could see Zambia vastly improve its yields across all crops, including cassava, and help avoid food shortages resulting from high demand for exports from neighboring countries.
NIR Spectroscopy in Ethiopia
In Ethiopia, where agricultural products make up a whopping 80% of exports, rain is a crucial component of agricultural practices. Unfortunately, droughts have ravaged the country for several years in a row, depleting the soil of its nutrient content and making it harder to successfully grow crops.
Figuring out how nutrient-rich soil is can occur through trial and error, but in such pressing conditions, time and resources cannot afford to go to waste using this method. This is where near-infrared reflectance spectroscopy (or NIRS) comes in.
NIRS works by analyzing the amount of light that a material absorbs, which can indicate how much of a certain substance is within that material. This method can help judge the quality of soil based on what nutrients it contains, without requiring the use of environmentally hazardous chemicals.
Understanding the technology behind NIRS devices can be daunting for a layman, but using one is surprisingly easy, even for someone with no background in the sciences. According to AZoM, many models are portable, inexpensive and can provide reasonably accurate results in under a minute.
Despite all the positives, the use of NIRS devices has remained somewhat low as of 2021 – a paper published in the Agronomy Journal suggested that this is partly due to a lack of education about how important the nutrient content of crops truly is.
The use of NIRS devices has the potential to result in better-quality crops, for both people and livestock. Coupled with a public awareness campaign and investment in more NIRS devices, Ethiopian farmers could see more successful crop yields, enhancing their ability to feed their animals and themselves.
Smart Irrigation Systems in Nigeria
In the west African country of Nigeria, 36% of the labor force is employed in the agricultural sector. However, in 2020, a PwC report cited "outdated methods of agriculture" as a critical issue in the Nigerian agricultural industry.
There is definitely room for improvement – investment in modern agriculture technology in Africa as a whole would vastly improve efficiency and allow agricultural workers to produce larger yields. One such technique is irrigation, which is the process of supplying water to crops through channels in the ground; this way, farmers do not have to rely on rainfall to keep their crops growing. As of 2014, only 1% of Nigeria's farmland was irrigated, according to the Malabo Montpellier Panel.
More recently, though, thanks to an initiative from the International Water Management Institute in partnership with the African Development Bank (ADB), 4,000 wheat farmers in Nigeria received training in effective irrigation technologies, as well as receiving "modern pressurized water conveyance-distribution system[s]," which ensure that less water is wasted during the irrigation process. Smart irrigation is not just environmentally sustainable – it reduces the number of time farmers need to be out in the field and provides improved water distribution to increase crop yields.
According to Further Africa, in August 2022, the Nigerian government approved an investment worth $24 billion for smart irrigation infrastructure. It should significantly reduce water consumption on farms and improve the ability of Nigerian farmers to produce large quantities of crops, a crucial factor in combatting hunger and lessening Nigeria's reliance on food imports.
Looking Ahead
When it comes to agriculture technology in Africa, the sector is always evolving. Investment in new and efficient techniques and technologies is crucial, not only for adapting to the rapidly changing climates on the African continent but also for combatting the famine that occurs with these changes. 
– Abbi Powell
Photo: Flickr
https://borgenproject.org/wp-content/uploads/logo.jpg
0
0
Naida Jahic
https://borgenproject.org/wp-content/uploads/logo.jpg
Naida Jahic
2022-11-01 01:30:29
2022-11-01 03:35:46
Agriculture Technology in Africa