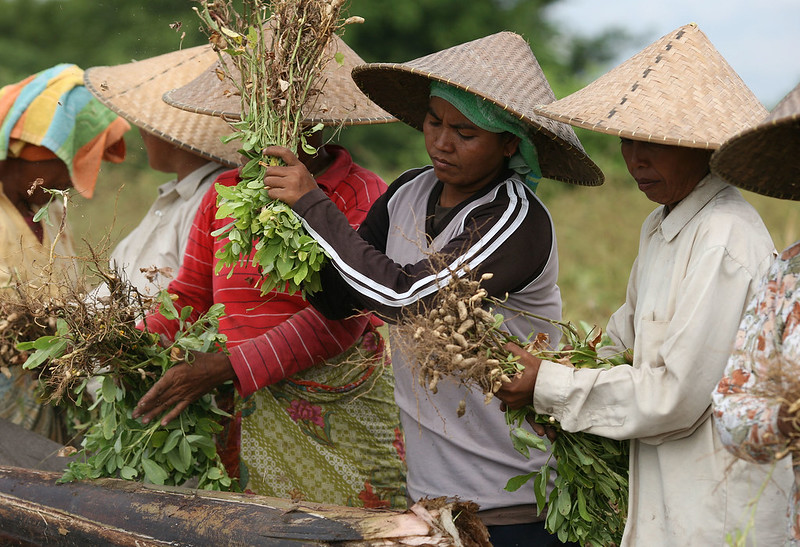 Indonesia has struggled with poverty since the Asian financial crisis of the late 1990s. However, the rate of poverty has been steadily decreasing over the years. In 1999, Indonesia's poverty rate was a staggering 24%. In 2013, it had dropped to 11.4%, and in 2019, it stood at 9.4%. Below are several ways agriculture is ending poverty in Indonesia.
Palm Oil Production in Indonesia: Providing Jobs and Alleviating Poverty
Palm oil is one of the most commonly used vegetable oils around the world and is found in half of grocery store items. Its popularity has skyrocketed globally since 1990, with global consumption growing from 14 million tons in 1990 to 63 million tons in 2015, 80% of which Indonesia supplies. After the Asian financial crisis, millions of Indonesians relied on the palm oil industry to relieve poverty. Between the years 2001 and 2010, 10 million Indonesians saw relief from poverty directly from working in the palm oil industry.
In 2017, 3.8 million Indonesians worked in the palm oil industry. Today, 17 million Indonesians rely on the palm oil industry for work and the industry uses 7% of Indonesia's land for its production. Palm oil agriculture is ending poverty in Indonesia because it directly helps farmers in rural areas. Poverty most affects Indonesia's rural areas. However, by maintaining and increasing funding for palm oil production, families living in these rural regions can lift themselves out of poverty.
Indonesia's COVID-19 Farmer Support
Farmers in Indonesia play a significant role in stabilizing the economy during the COVID-19 pandemic. The Ministry of Agriculture saw the necessity of supporting the many farmers of Indonesia, who make up 30% of the population, by providing livelihood necessities such as seeds and fertilizer.
The government is also providing 34 trillion Indonesian rupiahs, or $2,284,494,000, in loan subsidies. The 2.7 million farmers also received 300,000 Indonesian rupiahs, or $20, which is typically one week of wages, for three months.
USAID: Partnering with Local Farmers
The United States Agency for International Development (USAID) partners with farmers in Indonesia to help build stable livelihoods, reduce poverty and help the economy. USAID ensures that farmers have a consistent supply of necessary resources needed to produce food of high quality. This food security ensures that people see long-term benefits and avoid malnutrition, weakened immune systems and cognitive health issues. At the same time, USAID is committed to achieving these goals in an environmentally friendly way.
In its 2019 Annual Report, USAID clarified how its assistance with agriculture is ending poverty in Indonesia. USAID gained 2.9 hectares of farmland, which supports the livelihood of 11,400 people. Rubber plant farmers also received training on environmental sustainability and reducing the risk of forest fires, bringing about a 74% reduction in such fires. Additionally, 30% of farmers are now producing government-certified rubber products of a higher quality, which have increased in price from $0.50/kg to $0.80/kg. In addition, productivity has increased by 2.5%. USAID has set long-term goals for development and expects to acquire 100 million hectares of forest land by 2030.
Agriculture is ending poverty in Indonesia at such a high rate because the agriculture industry is most effective at raising incomes compared to other industries. In a 2016 study by the World Bank, 65% of impoverished workers could make a living by working in agriculture. The agriculture industry has made great efforts to eradicate poverty in Indonesia. Improvements in the practices of agriculture correlate with better incomes and an improved quality of life for farmers and will steadily increase with ongoing efforts.
– Karena Korbin
Photo: Flickr
https://borgenproject.org/wp-content/uploads/logo.jpg
0
0
Kim Thelwell
https://borgenproject.org/wp-content/uploads/logo.jpg
Kim Thelwell
2020-12-14 01:31:27
2022-04-26 20:17:24
How Agriculture is Ending Poverty in Indonesia