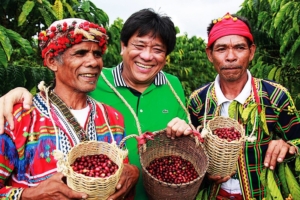 Lack of technological prowess has historically been one of the key issues affecting farming systems in the Philippines. But there are other issues as well:
The input of harvests has not been matching up to the output of harvests which is leading to a loss in profits. This problem is due mainly to farm pests that are consuming or contaminating harvests, along with diseases ravaging the plantations. The disease problem, in particular, is further exacerbated by the fact that the main agricultural product that the Philippines produces is rice.
Due to a lack of crop diversity, large swaths of rice plantations often suffer from the same disease. Without the proper pesticides and fertilizer, there is not much that can be done for the Philippines to combat the problem. The national government has tried to solve this problem by importing other pesticides and fertilizers from other countries, but this is much more expensive than it would be for the country to make its own.
Many farmers lack the necessary education, training and skills to maintain thriving businesses. Inadequate infrastructure is an offshoot of this issue and many farmers do not have access to coveted irrigation systems or milling towers which are essential for creating a sustainable agricultural system in modern society.
Business Modernization
Thankfully, organizations and programs have been created or put in place to solve these specific issues. For instance, the Department of Science and Technology – Philippine Council for Industry, Energy and Emerging Technology Research and Development (DOST-PCIEERD) has put forward long term plans to educate farmers properly on their vocation. Preserving certain types of endangered plants is also a key agenda item.
DOST-PCIEERD is focused on three core areas: cryopreservation, micropropagation and hydroponics. Of note, the agency's SPICE program also seeks to improve access to farming tools that would allow farmers to work at a less intensive rate while at the same time boosting profits. This is crucial since most farmers in the Philippines cannot afford their own improved equipment, to assist in farming.
These improvements are much needed, especially since the country experienced a 5.7 percent drop in crop production in the second quarter of 2019 alone. This is significant because out of all of the agricultural products that the Philippines has, the crop production field has seen the sharpest decline, while other areas of agriculture such as livestock and fisheries crops have grown.
Online Learning and Management
The SPICE program won't have to shoulder the responsibility of reviving the agriculture industry alone, however. The Agricultural Training Institute (ATI) is especially focused on the training of farmers and allowing farmers to gain the knowledge to train their peers. ATI even goes so far as to include an e-learning system to give farmers a crash course on the new techniques and technology that they will be used to improve their farming businesses.
The initiative also utilizes an app that can be accessed via a computer or phone to better connect farmers and their potential customers. There is also an app that allows farmers to better manage their rice farms with crop and nutrient management guidelines. This is crucial since rice accounts for 20 percent of agricultural output in the country.
Though farming systems in the Philippines are in need of improvement the government is taking the necessary steps to equip  farmers with the tools and knowledge to remain competitive. This is necessary since more than 40 percent of the economy in the Philippines depends on the agricultural sector.
– Collin Williams
Photo: Flickr
https://borgenproject.org/wp-content/uploads/logo.jpg
0
0
Jennifer Philipp
https://borgenproject.org/wp-content/uploads/logo.jpg
Jennifer Philipp
2019-10-30 01:30:24
2020-01-18 14:32:58
Room for Improvement: Farming Systems in the Philippines