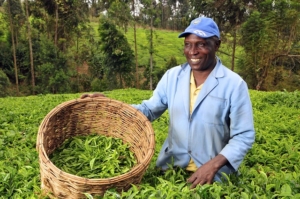 African agri-tech is in a major growth period, totaling $19 million in investment over the past two years, resulting in the number of start-ups to double. With 65 percent of the world's remaining arable land located in Africa, many African countries have major potential to become not only agriculturally self-sufficient but also major food exporters.
In 2017, African countries spent over $65 billion importing food. Current and future agri-tech innovations in Africa will play a large roll in reducing this trade deficit and improving the lives of small scale farmers in the process.
A Boom in Agri-tech
Kenya, Nigeria, and Ghana are leading agri-tech markets, accounting for over 60 percent of active startups in the sector. The agricultural industry has consistently been a crucial component of economic systems throughout Africa, but until recently has been untouched by technological innovation.
Over 80 percent of Nigerian farmers are smallholder farmers, producing 90 percent of domestic output. Nearly half of all working Nigerians are engaged in small-hold farming and account for the poorest 40 percent of the population. This level of poverty among smallholder farmers can be attributed to the low use of mechanized tools, inadequate market information, and lack of access to credit and financing options.
This is changing in recent years, following an increase of 121 percent in fundraising for agri-tech from 2016 to 2017. Nearly a third of all agri-tech startups are e-commerce agricultural focused platforms, connecting farmers with investors, markets, training and mechanized tools. These platforms help to lift many small scale farmers out of poverty while also mitigating food insecurity in local communities.
The Benefits of Crowdfunding
Given the massive potential for growth, crowdfunding has the possibility of ushering the African agricultural industry to the forefront of the world market. There is a public perception issue with smallholder farmers, as many people associate this brand of agriculture with poverty. Crowdfunding, however, can change how people throughout Africa look at farming.
The average age of a farmer is currently 60 years old. This in large part is due to younger people's inability to secure financing for farming as well as a lack of willingness to participate in the sector. The rise of these crowdfunding agri-tech innovations in Africa is providing young Africans with financial support, technical training and improved mechanical tools needed succeed.
The Startups Making a Difference
Nigeria's first digital platform for agricultural crowdfunding, Farmcrowdy, launched in September 2016. This platform connects Nigerian smallholder farmers with investors who select the farms they want to invest in. Farmcrowdy then uses the accrued funds to hire additional farmers, lease land, and provide valuable inputs to farms, such as fertilizer, seeds and technical support from sowing through harvest.
Agri-tech solutions such as Farmcrowdy have introduced Nigerians to a trusted platform used to pool resources and support small scale farmers in an effort to alleviate poverty and expand food production capacity. Farm supporters using the Farmcrowdy platform can invest in farms producing rice, maize, poultry, cassava and soya beans. The return on investment typically ranges anywhere from six percent to 25 percent. This allows urban Nigerians to invest directly in the livelihood of their fellow communities and the future of their food security.
Local farmers are appreciative of Farmcrowdy's advanced training in modern farming practices and the use of mechanization to increase productivity. As a result of this training, many farmers have seen an increase in yield by over a third. These agricultural goods are even selling at a higher price due to access to more stable markets and reputable buyers.
Agri-tech innovations in Africa, such as the rise of crowdfunding, have linked different aspects of the agriculture value chain, improving efficiency and food security in local communities. This is just the beginning of what crowdfunding can do for the agriculture industry. African countries such as Nigeria have massive untapped potential when it comes to food production. The introduction of financing and new farming technologies to small scale farmers can unlock this potential and make a massive impact on the lives of impoverished farmers throughout Africa and potentially the world.
– Peter Trousdale
Photo: Flickr
https://borgenproject.org/wp-content/uploads/logo.jpg
0
0
Kim Thelwell
https://borgenproject.org/wp-content/uploads/logo.jpg
Kim Thelwell
2019-08-10 08:33:20
2019-09-08 08:36:11
Growing Together: Agri-tech innovations in Africa