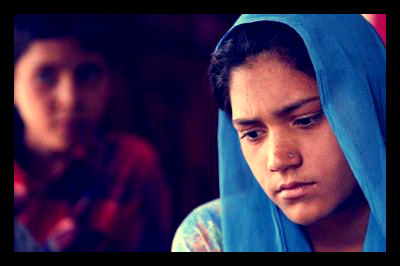 The recently released African Report on Child Wellbeing 2013 highlights a startling law in Sudan that has devastating consequences for its female population: the legal minimum age to be married is ten. The report, published by the African Child Policy Forum research institute, called on Sudan to raise its legal age of marriage to 18 to comply with international child rights standards.
Such a call is sorely needed; surveys conducted in 2010 found that nearly 38 percent of Sudan's girls were married before the age of 18. In Blue Nile State, that number is over 60 percent – and a full fifth of girls there are married before the age of 15. The effects of marrying so young are devastating for girls. UNICEF has termed child marriage "a fundamental human rights violation that impacts all aspects of a girl's life."
Likely no aspect is more impacted than a girl's health. Child marriage makes early pregnancies more likely, the consequences of which can be deadly. Fatal complications related to childbirth and pregnancy account for 50,000 deaths of girls between the ages of 15 and 19 worldwide. For girls between the ages of 10 and 14, the picture is even bleaker: they are five times more likely to die from pregnancy and childbirth than women who are between the ages of 20 and 24. Sudan's maternal mortality rate is 730 per 100,000 live births. By comparison, it's 21 in the United States.
In addition to the dire health risks related to early pregnancy, girls married before the age of 18 are also more likely to be beaten, raped or infected with HIV by their husbands and abused by their in-laws. They are also far less likely rise out of poverty. Furthermore, children born of child brides are more likely to die before their first birthday. Those who survive are more likely to face poverty, be malnourished and grow up without an education.
Sudan's official minimum age of sexual consent – the advocated-for age of 18 – should protect its girls from many of these destructive consequences. Yet its Personal Status of Muslims Act of 1991 allows an exemption that protects a spouse from being charged for sex within marriage even if one of the parties is under the age of 18.
Though this exemption in Sudan's legal code accounts for the lowest legal marriage age in Africa, a number of other countries are not doing much better. In the Democratic Republic of Congo, Gabon, Seychelles, Cameroon, Niger, Swaziland, Tanzania and Malawi, the legal age of marriage is 15. In Senegal, Guinea-Bissau and Zambia, the age is 16.
– Kelley Calkins
Sources: CIA, Reuters, UNICEF, African Report on Child Wellbeing, Reuters
Photo: Trust
https://borgenproject.org/wp-content/uploads/logo.jpg
0
0
Borgen Project
https://borgenproject.org/wp-content/uploads/logo.jpg
Borgen Project
2013-12-03 01:31:06
2018-07-31 12:45:14
Sudan Harms its Children with Legal Marriage