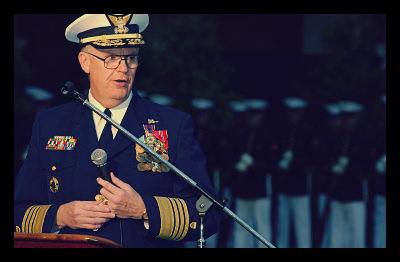 Admiral James Loy wrote a piece for Defense News in which he defended US funding for international aid. He explained why international affairs spending should not be cut. The article was titled, simply, "Don't Cut International Affairs Spending".
When Admiral Loy joined the military, our foreign policy and worldview was defined by nations who wanted to do us harm. This made American foreign policy strategy simple and straightforward, however, times have changed. The Admiral plainly states that in order to secure our country, it is absolutely critical for us to invest in development and diplomacy alongside our defense systems.
In his opinion, our international affairs budget is absolutely necessary. He believes that exact budget is responsible, in large part, for protecting our national security at home. He devoutly feels that our International Affairs budget should remain a part of national security, and that cuts to the budget would jeopardize investments and progress in countries such as Afghanistan, Pakistan and Iraq.
This budget, he says, promotes our security by addressing complex threats around the world in the form of global pandemics, infectious diseases, and instability as a result of food shortages and natural disasters. This funding allows the United States to prevent conflicts before they even occur.
The minuscule amount of our budget spent on international affairs (only one percent!) provides a massive return on investment. Admiral Loy believes our international spending not only limits our military spending abroad, but it also protects the lives of US soldiers.
Admiral James Loy stated that, as a country, Americans must be aware of our position around the world. We need to provide potentially unstable countries reason to see us as friends and not foes by assisting them in building a better way of life. We must work to ensure developing countries have access to economic growth, clean water, encouraged rule of law, and that we help stop the spread of preventable diseases.
Admiral Loy, like many other top US military officials, understands the importance of foreign aid and foreign spending. Foreign aid is an investment in our future. It will provide a return larger than the initial investment. Admiral Loy's final parting words stated that, "a strong and effective International Affairs Budget is essential to our national security, and this must continue to be a priority for our nation moving forward."
Admiral James Loy served as commandant of the U.S. Coast Guard from 1998-2002, and deputy secretary of Homeland Security from 2003-2005. He currently serves as a co-Chair of the National Security Advisory Council of the U.S. Global Leadership Coalition.
– Caitlin Zusy
Source: U.S. Global Leadership Coalition
Photo: U.S. Coast Guard
https://borgenproject.org/wp-content/uploads/logo.jpg
0
0
Borgen Project
https://borgenproject.org/wp-content/uploads/logo.jpg
Borgen Project
2013-05-17 04:59:44
2020-05-29 21:25:41
Why Admiral James Loy Believes in Aid