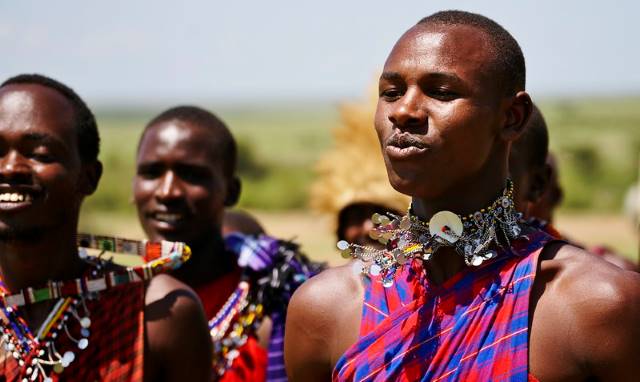 HIV/AIDS affects the majority of African countries. Maasai villages are located in Kenya, where approximately one in five adults is currently infected with HIV/AIDS. The HIV/AIDS epidemic in Maasai villages continues to affect many, and, as a result, humanitarian organizations are working to alleviate the increasingly high infection rates.
The HIV/AIDS Epidemic in Maasai Villages
HIV/AIDS infection rates are increasingly high and treatment rates are increasingly low. Of the affected 38 African countries, Kenya, the home of Maasai villages, is the fifth most affected country in the world. Maasai culture is greatly patriarchal, traditional and resistant to common health practices. Marriage practices, a fundamental aspect of the Maasai culture, gravely impact the Maasai village members' health. Prior to marital relationships, most girls will have sexual relations with young warriors and such relations will continue even after the girls enter marriages. Immediately after reaching puberty, girls enter into marriages with older men with the goal of preventing childbirth out of wedlock.
Even after marriage, most women fear seeking testing or treatment as husbands may abandon their wives if the women test positive for HIV/AIDS. Because men provide financial support, housing and food, women, understandably, do not seek appropriate treatment.
In Kenya, more than 30% of newborns contract HIV/AIDS and approximately half of those children die before they reach 2 years old. The alarmingly high death rate is largely due to the fact that both the babies and their mothers do not seek proper diagnoses, let alone treatment. The United States Agency for International Development (USAID) found that since the onset of the global HIV/AIDS crisis in 1981, 17 million children lost at least one parent from HIV/AIDS. Of those 17 million children, 91% live in sub-Saharan African countries such as Kenya.
Obstacles in Alleviating HIV/AIDS Rates
According to Doctors Without Borders, a fundamental obstacle posed by the HIV/AIDS epidemic in Maasai villages is the unavailability of health clinics. Because Maasai villages are independent of the country's government rule, little effort is visible on the part of African or Kenyan government forces. Maasai villages are primarily controlled by a Laibon, a de facto leader of the village, who makes decisions regarding marriages, cattle, spiritual practices and health. Laibons primarily practice alternative medicine, leaving the communities with no access to HIV/AIDS treatment.
Even if there is a clinic close by, the clinic is unlikely to have HIV/AIDS treatments available. In addition to stigmas around testing, clinics do not have the antiretroviral treatments that are available in the United States. In implementing antiretroviral treatments within the United States, mortality rates have been reduced by more than 80%. But, such treatments can cost more than $9,000, which Maasai village members and clinics cannot afford. Furthermore, there are numerous legal barriers preventing the production and importation of antiretroviral treatment to Kenya, specifically in the rural areas of the Maasai villages.
Progress in the HIV/AIDS Epidemic in Maasai Villages
The HIV/AIDS epidemic in Maasai villages has extreme implications. HIV/AIDS most commonly affects the younger, more sexually active members of the village. Because the younger population is more physically able to partake in laborious work, the strenuous tasks that keep the villages operating cannot be completed if they are sick. Therefore, high infection rates lead to a decrease in social contribution. Without the help of younger Maasai members, the villages become vulnerable to instability. For both health reasons and the function of their villages, Maasai members will not be able to survive if Kenya's infection rate remains higher than 4%.
Because progress is limited within the Maasai villages, many global aid organizations such as Adapt-A-Doctor and Kenya AIDS Intervention are paying physicians to practice in struggling countries. Additionally, Doctors Without Borders is extending its time in hotspot countries, such as Kenya, where it provides free counseling and testing to Maasai village members.
Through the efforts of external organizations and health associations, awareness of the HIV/AIDS epidemic in Maasai villages is increasing. The help of such organizations in collaboration with Maasai villages will lead Maasai people to live healthier, safer and longer lives.
– Maya Sulkin
Photo: Flickr
https://borgenproject.org/wp-content/uploads/logo.jpg
0
0
Jennifer Philipp
https://borgenproject.org/wp-content/uploads/logo.jpg
Jennifer Philipp
2021-01-07 07:30:51
2022-04-14 01:59:36
The HIV/AIDS Epidemic in Maasai Villages