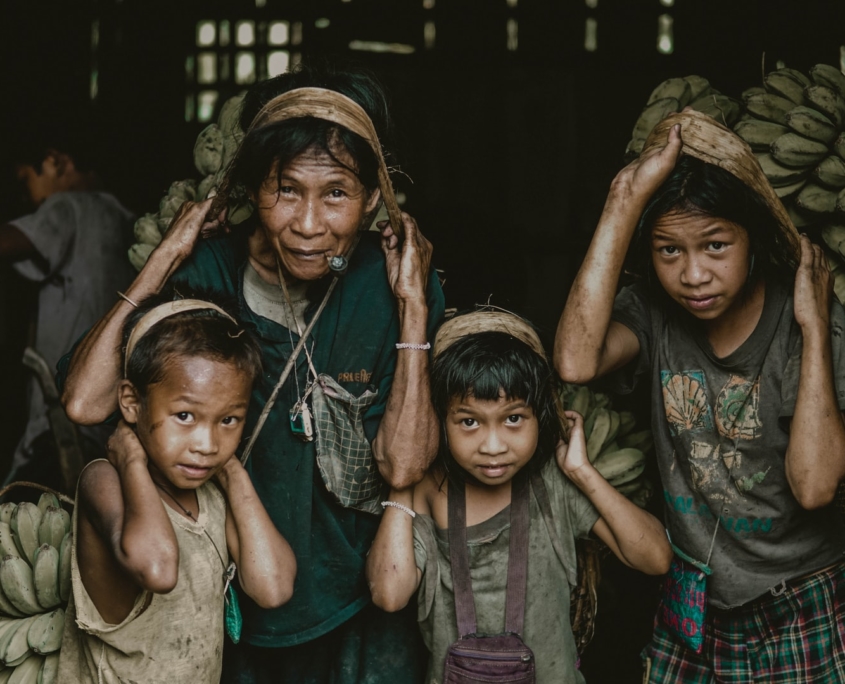 Despite a 38% global reduction of child labor between 2000 and 2016, hundreds of millions of children remain in exploitative labor conditions. Work deprives children of their formative childhoods and educational experiences, while potentially harming them physically and psychologically. So, how are people and organizations working to end child labor around the world?
Living in poverty is the main reason children work, whether by circumstance or force. However, child labor creates a cycle of poverty. Some children have to work to survive and help support their families. These children, therefore, do not have the time to receive an education. Education is considered a key to escape poverty; without it, children do not have many options other than continuing to work.
Most child labor is in agriculture; more than 75% of child laborers work the fields, but others work in factories or the service industry. Out of the 170 million child laborers, 6 million children are forced into labor. These children often become child soldiers or are sold into prostitution or slavery. The United Nations calls for an end to child labor in all forms by 2025, a mere five years away. Here are three U.N. solutions to achieve their goal to end child labor:
3 UN Solutions to End Child Labor
2021 is the International Year for Ending Child Labour. The United Nations General Assembly wants to draw attention to the millions of children working in fields, mines and factories during 2021. Member states of the International Labor Organization (ILO), a specialized agency of the U.N., will raise awareness of the importance of ending child labor and share successful projects. These projects include initiatives to reduce poverty, educate children, offer support services and enforce minimum age requirements, among other solutions. As the steady decrease in child labor tapered off in 2016, the hope is that this effort will renew the global community's interest in eradicating child labor.
The Clear Cotton Project plans to have sustainable cotton industries without child labor. With the rise of fast fashion, cotton is one of the most valuable supply chain commodities. Because of its high demand, the cotton industry is notorious for its use of child labor, now embedded into the supply chain. Children work long, often excruciating, hours picking cotton, weeding and transferring pollen in the fields. In factories and workshops, child workers spin the cotton and have various tasks, from sewing buttons to embroidering fabric. All of this work is often underpaid if compensated at all. The Clear Cotton Project wants its partner countries of Burkina Faso, Mali, Pakistan and Peru to create sustainable cotton industries without child labor. The program, which started in 2018 and will end in 2022, has two strategies aimed at ending child labor. The first includes editing, strengthening and enforcing policy, legal and regulatory framework against child labor in accordance with ILO standards. The second strategy works to support local governments and public service providers. This strategy aims to increase access to education, create youth and women employment schemes and strengthen worker unions so workers can both recognize their rights and monitor their working conditions
Ending child labor in African supply chains is receiving special attention. While the rest of the world saw a decrease in child labor between 2012 and 2016, Sub-Saharan Africa observed an increase. Child labor is most prevalent in supply chains, especially in cacao, cotton, gold and tea. In the tea industry alone, around 14% of children are working as laborers in Uganda. Even more children work in Malawi—38% of all children from ages 5-17. Producing tea is labor-intensive, from preparing the land for planting to harvesting to preparing the leaves for export. Children are involved at every level. To combat this, ACCEL Africa, a four-year program, began in 2018 to "accelerate action for the elimination of child labor in supply chains." Partnered with the Netherlands, Côte d'Ivoire, Egypt, Mali, Malawi, Nigeria and Uganda, the program aims to address the problems that cause institutionalized child labor in supply chains. These countries will also improve their child labor policies and legal framework and enforce the revisions to stop child labor.
While the U.N. has set a challenging goal, with increased awareness, commitment and cooperation, the global community can succeed in its programs, ending child labor by 2025. With a real childhood, education and a brighter future, these children will have a chance to step out of the vicious cycle of poverty.
– Zoe Padelopoulos
Photo: Unsplash
https://borgenproject.org/wp-content/uploads/logo.jpg
0
0
Kim Thelwell
https://borgenproject.org/wp-content/uploads/logo.jpg
Kim Thelwell
2020-07-16 01:31:28
2020-07-16 04:18:02
Ending Child Labor: 3 UN Solutions