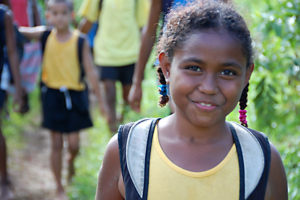 In recent years, Fiji has made gender equality in education a priority. Women and girls are encouraged to achieve their academic goals and take advantage of the flourishing community. This is great news, but sometimes, there are obstacles and growth brings growing pains. In the article below top 10 facts about girls' education in Fiji that will try to shed light on the state of schooling and academia for females are presented.
Top 10 Facts About Girls' Education in Fiji
Fijian women and girls, especially those in rural areas, face disadvantages regarding their reproductive health. They rarely receive the education and resources to adequately care for themselves during menstruation. Twenty-five percent of primary schools in Fiji do not have access to adequate sanitation facilities and water supply, which creates difficulties when it comes to female sanitation and managing menstruation. When there are inadequate sanitation facilities in schools, menstruating students and teachers are highly impacted. Girls may miss as much as 20 percent of school days due to menstruation.
In 2014, The Minister for Social Welfare, Women and Poverty Alleviation, Dr. Jiko Luveni, opened the Ability to Shine Production Centre. Located in Suva, the facility can produce 300 sanitary pads a week so women have access to affordable napkins. The center was also meant to make the lives of rural women easier and empower female students to attend school.
Female representation in school management positions is inadequate, meaning there are very few women who are in positions in committees responsible for administering management or finances. Women occupy only 10 percent of positions on committees at schools that are in rural and remote areas. These schools are considered to be the most underprivileged and impoverished.
On October 23, 2018, The Duchess of Sussex, Meghan Markle announced that two grants will be awarded to the Fiji National University and the University of the South Pacific. These grants would help support access to higher education for women in Fiji. She explained that through work study, grants and scholarships she was able to attend university and she thinks every girl deserves the same opportunity. These grants will allow each school to run workshops that empower their female staff.
In developing countries, when there is conflict or hardship, girls' education is often times the first thing affected. In Fiji, it is a common gender stereotype or assumption that a girl is going to decide to stay home, be a mother or do housework rather than educating herself, making her education low priority.
Women who completed school and received the same or similar education as Fijian men are not as prevalent in the workforce. There is only 65 percent of women with certificates or diplomas who are working, whereas 89 percent of men with the same education are in the workforce.
Of the 30,000 Fijians at the three Fijian universities, 53 percent are women. Even though women make up more than half of the students in higher education, there is only a small proportion enrolled to qualify in technical occupations.
Thirty-six percent of men of 25 years old and above and 40 percent of women of the same age have a similar level of education which is a secondary qualification. Secondary education lasts four years and includes courses like metalwork, woodwork and home economics.
Social norms, low salaries for women and difficult transportation lead to a lack of women in the workforce. When almost 50 percent of the population is not given the same rights or opportunities as the other half, this affects children and is especially makes impactful on young girls.
Fiji's National Gender Policy was launched in 2014. This policy promotes the advancement of women's rights and provides gender sensitization training, gender analysis and fodder for gender-sensitive language in legislation and government documents. It also includes strategies for boosting women's participation in decision-making processes. An area of focus for this policy is girls' access to basic services including education and health services.
While some of the top 10 facts about girls' education in Fiji are difficult to grasp, others show signs of improvement. Fiji has made strides forward when it comes to gender equality in education and the workplace. Although there is a continued promise from the government to keep pushing for female empowerment and equality, there is yet to be a plan set in stone to ensure this. The present is brighter than the past, but with awareness, the future could be even brighter.
As Joeli Cawaki, The Commissioner for the Western Division stated: "We in Fiji are fortunate that our children have been given equal rights and opportunities to attain an education. Therefore, I encourage you to make the best of this opportunity. Educate your children, especially the girl child."
– Malena Larsen
Photo: Flickr
https://borgenproject.org/wp-content/uploads/logo.jpg
0
0
Kim Thelwell
https://borgenproject.org/wp-content/uploads/logo.jpg
Kim Thelwell
2019-02-09 13:30:59
2019-12-16 08:32:58
Top 10 Facts About Girls' Education in Fiji